News listings
energy-pedia development and production

Indonesia
Indonesia: Exxon says crude output at Indonesia's Cepu block could reach 200,000 bpd
25 May 2016

Crude oil output from Exxon Mobil's Cepu block in Indonesia could reach 200,000 barrels per day (bpd) up from 185,000 bpd at present, if the government approves an increase, a company spokesman said on Wednesday.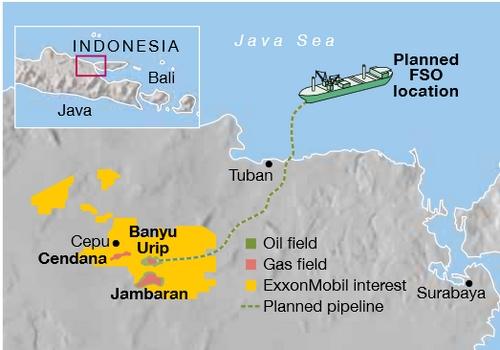 Output from the Banyu Urip project in the Cepu block in East Java province is crucial to Indonesia's long-term efforts to meet rising domestic oil demand as production declines at other ageing fields.
'From our reservoirs there is still the potential to increase Cepu block production above 185,000 bpd,' Exxon Mobil spokesman Erwin Maryoto told reporters. 'It could be up to 200,000 bpd, but (only) if the government agrees to all the permits, including environmental impact assessment. We are ready to increase production.'
Crude output from Cepu more than tripled throughout 2015 from a year earlier, hitting around 130,000 bpd in December when Exxon began operations at the project's central processing facility.
Exxon has faced a host of problems and setbacks developing Cepu, Indonesia's biggest oil and gas find of the past decade, including a worker dispute that slashed output in August.
The Banyu Urip project is operated by Exxon in partnership with state energy company Pertamina.
Indonesia's upstream oil and gas regulator SKKMigas said the government needed to evaluate the potential production increase from the Cepu block, because it would involve an increase in costs. 'The current capacity of their facility is only 185,000 bpd, so if they increase it, it means they will add capex,' said SKKMigas deputy chairman Mohammad Zikrullah.
Indonesia's average daily crude output in the first quarter climbed to 835,000 barrels per day (bpd) from an average daily output of 786,000 bpd in 2015, largely due to increased output from Banyu Urip.
Source: Reuters via Yahoo! Finance
back to top