News listings
energy-pedia development and production

Indonesia
Indonesia: ExxonMobil Cepu oil field to begin full production
29 Jul 2009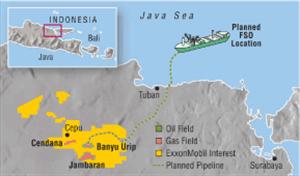 The ExxonMobil Corp's huge Cepu oil field in Indonesia is expected to start initial production in August nearly a decade after it was discovered and following a sharp slide in crude output in Southeast Asia's biggest economy.
Cepu, which ranks among the US major's top 10 projects worldwide and is Southeast Asia's biggest new field, has faced multiple obstacles, from land issues to the path of pipelines and the share of revenue and control with state oil firm Pertamina.
Here are some details of the $2.6 billion Cepu project in an area straddling Central and East Java.
- ExxonMobil used advanced 3-D seismic technology to find oil in Cepu in 2001
- Five years of wrangling with state oil firm Pertamina over control and share of revenue then followed before an agreement was reached in 2006 to jointly develop Cepu with Exxon unit Mobil Cepu Ltd as operator.
- Exxon and Pertamina hold 45% stakes, with the remaining 10% held by four local governments in East and Central Java. The revenue share is 85% for the government and 15% for contractors when the oil price is above $45 per barrel. If oil prices are lower then the investors get a bigger share.
EARLY PRODUCTION PHASE
- Some test production started in December and early output of 15,000-16,000 barrels per day (bpd) could begin in August, rising to 20,000 bpd by this year-end, energy watchdog BPMIGAS said.
- Six wells have been drilled for early production on Cepu's main Banyu Urip field, which is estimated to have reserves of 350 million barrels, including two to re-inject gas and water.
- Crude will be piped through a 2.5 km pipeline to a gas oil separation plant. From the plant around 6,000 bpd is due to go to a small refinery being built by private firm PT Tri Wahana Universal (TWU), while up to 14,000 bpd will be piped to storage facilities operated by Pertamina and Petrochina, which already has operations in the area, in Mudi.
- Oil from the storage area will then flow in a pipeline parallel to an existing pipeline to a floating storage facility in the Java Sea.
MAIN PRODUCTION PHASE
- Cepu is expected to reach maximum output of 165,000 barrels per day (bpd) of crude in 2012, or about a fifth of Indonesia's current crude output.
- A central processing facility will be built on 100 hectares (247 acres) near the main oil wells to handle maximum output.
- A new 76 km pipeline will also be built to directly transport maximum output to a new floating storage facility for shipment.
- Cepu's total oil reserves are estimated at 600 million barrels and the company will start new exploratory drilling in other areas at the end of the year. The block includes seven other fields such as Alas Dara/Kemuning, Jambaran and Cendana.
- The field is also estimated to have 1.3 trillion cubic feet of gas reserves, which may be exploited later

back to top