News listings
energy-pedia development and production

Indonesia
Indonesia warns Exxon on failing Cepu oil output
27 Aug 2009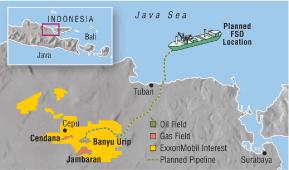 The Indonesia oil watchdog, BPMIGAS has said today it may bring the US oil major ExxonMobil to arbitration court if the firm fails to produce 15,000 barrels per day (bpd) of crude oil from the Cepu block by the end of August.
The giant block in Central Java, which is being jointly developed by ExxonMobil and Indonesian state oil firm Pertamina, began initial production last December with a volume of around 800 bpd. In March, ExxonMobil temporarily halted output at Cepu because of pipeline problems.
"There is an agreement from Exxon Mobil to produce oil from Cepu in August. If it fails, we may bring Exxon Mobil to arbitration court," said Sulistya Hastuti, BPMIGAS spokesman. ExxonMobil Indonesia officials could not be reached for comment.
Separately, another BPMIGAS official said Exxon Mobil has promised to produce 15,000 bpd to 20,000 bpd of crude from Cepu in August, but several problems, including land clearing, have caused production delays.
"However, as an operator of the project, ExxonMobil must solve the problems, and they should not delay the production," the official, who declined to be identified by name, told Reuters. "BPMIGAS may also change the operator in Cepu block to Pertamina," the official said.
Cepu, which ranks among the US major's top 10 projects worldwide, is expected to produce 165,000 bpd when it reaches peak output in 2012.
Indonesia hopes the project will help arrest a sharp slide in its crude production as ageing fields struggle to maintain output.

back to top