Further to the announcement made on 14 April 2020, Coro Energy, the Southeast Asian focused upstream oil and gas company, has announced the results of an independent resource audit of the Mako gas field, which forms part of Duyung PSC in the West Natuna basin, offshore Indonesia, in which Coro holds a 15% non-operated direct interest.
Following a highly successful drilling campaign undertaken in Q4 2019, the operator of the Duyung PSC, Conrad Petroleum, engaged Gaffney Cline and Associates ('GCA') to complete an independent resource audit for the Mako Gas Field, further to the updated resource estimates prepared by the Operator detailed in the Company's announcement on 14 April 2020.
GCA have now completed their audit, which confirms a significant resource upgrade for the Mako Gas Field compared to their previous resource assessment released in January 2019 (the '2019 GCA Audit'). 2C (contingent) recoverable resource estimates have been increased to 495 Bcf, an increase of approx. 79% compared with the 2019 GCA Audit and confirming the work completed by the Operator and partners. In the upside case, the 3C (contingent) resources have increased by approx. 108% compared with the 2019 GCA Audit and are also higher than the 3C estimate made by the Operator and the Duyung partners in April 2020 and announced on 14 April 2020. With GCA's confirmation of the latest upgrade, the Mako Gas Field has, on a 2C (contingent) resource basis, been shown to be one of the largest gas fields ever discovered in the West Natuna Basin and is, so the Company believes, currently the largest confirmed undeveloped resource in the surrounding area.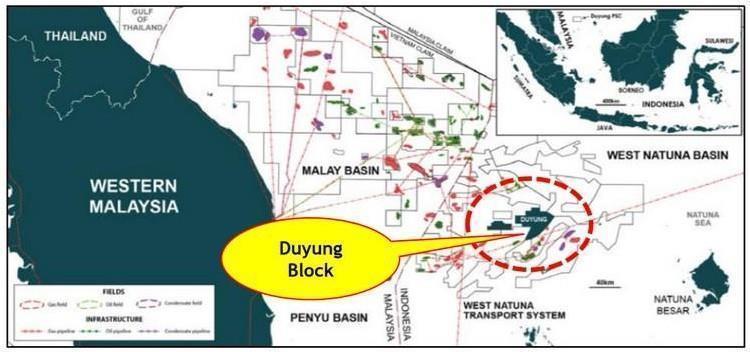 Results of the updated resource audit
The revised estimates of gross (full field) recoverable dry gas audited in the May 2020 GCA Audit are:

The full field resources above are classified in the May 2020 GCA audit as contingent. Gas volumes are expected to be upgraded to reserves once select commercial milestones have been achieved, including execution of a Gas Sales Agreement ('GSA') and a Final Investment Decision.
The Mako Gas Field is located close to the West Natuna pipeline system and gas from the field can be marketed to buyers in both Indonesia and in Singapore. A Heads-of-Agreement ('HOA') with a gas buyer in Singapore is already in place. The conclusion of GSA negotiations will mark a further important step toward the Final Investment Decision to develop and commercialise the field. Further updates will be provided in due course.
James Parsons, Non-Executive Chairman, commented:
'I am delighted to report the independent confirmation of such a significant resources upgrade at the Mako Gas Field following our recent successful Indonesian drilling campaign. We are very encouraged by the resulting net asset value uplift and see very material upside exposure for shareholders as sentiment in the oil / gas sector begins its recovery.'
Source: Coro Energy