Genel Energy has announced that payments have been received from the Kurdistan Regional Government for oil sales during February 2021. Genel's share of those payments isas follows: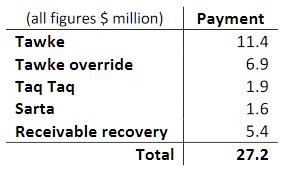 Under the Tawke override payment mechanism, Genel receives 4.5% of monthly Tawke gross field revenues. The receivable recovery payment relates to unpaid invoices from 2019 and 2020. For each cent above a monthly dated Brent average of $50/bbl, 0.5 cents per paying interest barrel produced will be paid towards monies owed.
As noted today by DNO, operator of the Tawke PSC (Genel 25% working interest), following resumption of payments the partners have stepped up drilling of new wells at Peshkabir and workovers of existing wells at Tawke in 2021, raising gross operated licence production from an average of 110,300 bopd in 2020 to 110,900 bopd in January, 112,000 bopd in February, 113,100 bopd in March and 115,500 bopd month-to-date in April.
Source: Genel Energy