Genel Energy has announced that all payments have now been received from the Kurdistan Regional Government ('KRG') relating to oil sales during July 2022.
Genel's share of those payments is as follows: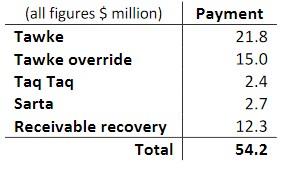 Genel was owed $120 million, excluding interest, for deferred receivables from the KRG for oil sales from November 2019 to February 2020, and has now received $130 million. In addition, the override was suspended from March to December 2020, which would have earned Genel $38 million.
Source: Genel Energy