News listings
energy-pedia licensing

Iraq
Iraq: Shell and Petronas consortium awarded Majnoon oil field
11 Dec 2009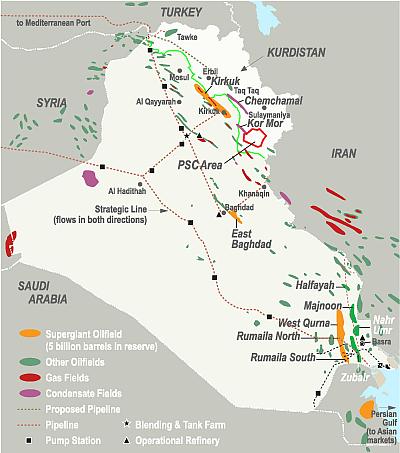 The Iraqi Ministry of Oil has awarded Shell and Petronas Carigali a contract for technical assistance in developing the Majnoon field, subject to ratification by the Iraqi authorities. A total of 44 companies are bidding for 10 fields in the second licensing round since the invasion in 2003.
Shell will operate the Development and Production Service Contract under the terms of the second licensing round for Iraqi oil and gas contracts. As laid out by the Ministry of Oil those terms call for 25% of the participating interests in all licences to be held by the Iraqi State. Shell will hold a 45% share, with Petronas holding 30%.
The consortium bid a plateau production of 1.8 million barrels of oil per day, up from a current level of approx. 45,000 barrels of oil per day. Majnoon is one of the largest oil fields in the world, and Shell and Petronas look forward to developing this world class resource base with its partners.
A consortium of Total and China National Petroleum Corp. is reported to have also submitted an offer for the Majnoon field, and to have bid a plateau production of 1.405 million barrels per day. Reports also indicate that Shell and Petronas offered a remuneration fee of $1.39 per barrel while Total and CNPC offered $1.75 per barrel.
Estimated reserves in Majnoon are 12.8 billion barrels.
For further details of licensing rounds upstream farm-in opportunities in Iraq and the Middle East region, visit energy-pedia opportunities, our 'premium content' service.
Source: energy-pedia
back to top