News listings
energy-pedia general news

Ireland
Ireland: PETRONAS farms-in to Lansdowne's SEL 4/07 Celtic Sea, Offshore Ireland
19 Nov 2014

North Celtic Sea focussed oil and gas company Lansdowne Oil & Gas has entered into a farm-in agreement with Kinsale Energy, (fornerly Marathon Ireland), wholly owned subsidiary of PETRONAS. Kinsale will fund the costs of drilling, and possible testing, of a well on the Midleton Prospect.
Under the terms of the agreement, Kinsale Energy will:
Acquire an 80% interest and be appointed operator of SEL 4/07 offshore Ireland
Fund 100% of the costs of drilling a well on the Midleton prospect
Fund Lansdowne's share of the costs of any testing programme up to US$ 2.5 million (net).
The completion of the farm-in agreement remains subject to Irish Governmental approval.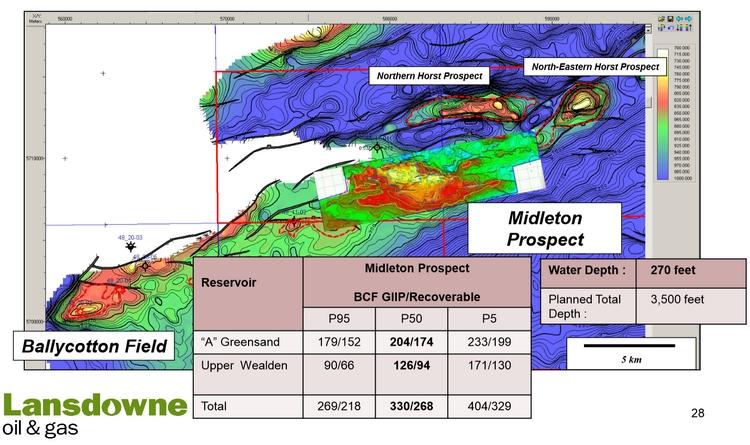 Commenting on the news, Lansdowne CEO Steve Boldy said:
'We are delighted to welcome Kinsale Energy to Licence 4/07 and look forward to drilling the Midleton gas prospect. Kinsale Energy's team has a wealth of operating experience and has been producing gas safely from the Kinsale gas field and its satellites since 1978. Securing a farm-in partner for Midleton is a critical first step to delivering our objective of a multi-well programme in the Celtic Sea which, in addition to exploration wells, we expect to also include further appraisal/pre-development drilling on the Barryroe oil field'.
About the Midleton Prospect
The Midleton prospect lies approx. 20 km northeast of the Kinsale Head gas field (c. 1.7 TCF reserves) and also 20km to the east of the Ballycotton gas field (c. 60 bcf reserves).
The main producing reservoir in the Ballycotton and Kinsale Head gas fields is the Lower Cretaceous Greensand / 'A' Sand. The Greensand / 'A' Sand also forms the primary reservoir target in the Midleton prospect and has been established to be present with good reservoir quality in the nearby 49/11-1 and 49/11-2 wells, which were drilled in downdip locations.
Additional potential lies in the Lower Cretaceous Upper Wealden sands that are an important secondary reservoir in the Kinsale Head field.
Midleton lies along a trend of inverted structures along the northern margin of the basin that includes the Ballycotton Field.
Amplitude brightening at Greensand 'A' Sand level is seen on seismic lines across the Midleton prospect, similar to that seen on lines across the Ballycotton Field.
Note: SEL 4/07 (Midleton) is one of three Lansdowne-operated exploration licences (namely SEL 4/07, 5/07 and 5/08) in the North Celtic Sea Basin, off the south coast of Ireland, for which Macquarie Capital (Europe) has been retained to find strategic partner(s). Further details are available at energy-pedia opportunities, our premium subscriber service.
Source: Lansdowne Oil & Gas
back to top