News listings
energy-pedia exploration
Italy
Italy: Petroceltic applies to suspend Elsa-2 well operations due to drilling restrictions
20 Jul 2010

Petroceltic International has announced that due to continued uncertainty regarding the application of the proposed decree to restrict drilling in the Italian seas, Petroceltic Italia has lodged an application with the Ministry of Economic Development, to suspend the current timing of the delivery of the Company's commitments on the B.R268.RG permit.
The Company has taken this decision as under the existing terms of the Permit and Petroceltic's Farm-in Agreement with Vega Oil (a subsidiary of Cygam Energy), Petroceltic is required to spud the Elsa-2 well prior to 31 October 2010. Given the continued legislative uncertainty, the Company cannot commit at present to a timetable to procure long lead items and to conclude the rig negotiations that would enable a pre-31 October 2010 spud date.
The proposed legislative changes, which have not yet been published, would prohibit drilling in Italian seas within 5 nautical miles of the coastline and within 12 nautical miles around the perimeter of protected Marine Parks. Petroceltic was scheduled to spud the Elsa 2 well in Q4 2010 in a location on the Permit that is likely to be affected by the proposed restrictions.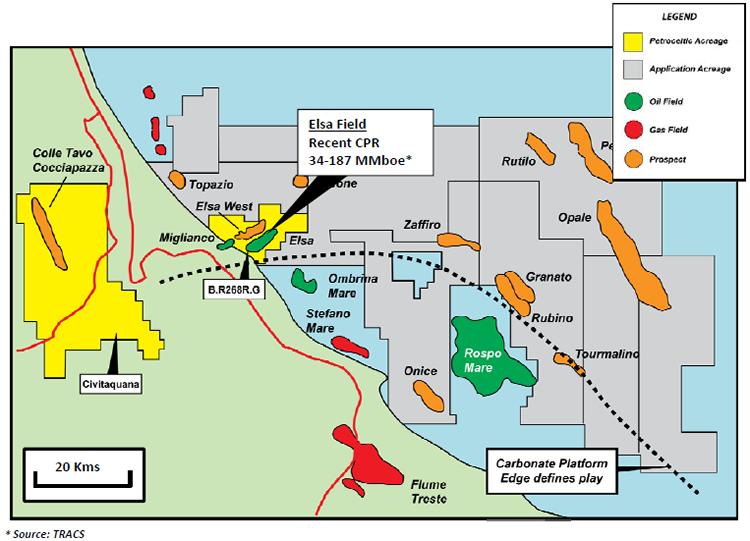 The Company has applied to have the suspension of the Permit back dated to April 16 2010, which is the date on which the last official correspondence on the Environmental application took place. The permit will remain suspended until such time as the Ministry of Environment issue the decree of environmental compatibility for Petroceltic's drilling program. Once this environmental approval has been received the Company will have sufficient time remaining on the Permit to drill the Elsa-2 well. Petroceltic intends to continue with the existing environmental permitting process, which is at an advanced stage whilst the implications of the proposed changes to legislation are assessed.
The Elsa field was discovered in 1992 by AGIP with the drilling of the Elsa-1 well, which encountered an oil column of 65 meters in the Lower Cretaceous Maiolica Formation at a depth of approx. 4,500 meters. A TRACS Competent Person's Report on the Elsa field published in March 2010 estimated the most likely recoverable oil reserves to be in the region of 100 MMbbl, depending on oil gravity and viscosity.
Brian O'Cathain, Chief Executive of Petroceltic, commented: 'Whilst this period of uncertainty regarding the application of the proposed new legislation continues we believe that the most effective way of securing the significant inherent value in the Elsa permit is through the suspension of commitments on the Permit. This suspension of commitments until such time as Petroceltic receives environmental approval for the Elsa-2 well ensures that Petroceltic will not contravene a drilling requirement that could possibly have resulted in a loss of the permit. We continue to work together with all our stakeholders and industry partners to fulfil our commitment to the drilling of the Elsa-2 well'.
Source: Petroceltic International
back to top