News listings
energy-pedia licensing

Jamaica
Jamaica officially launches Second Formal Licensing Round 2010
02 Mar 2010
Jamaica officially launched the Second Formal Licensing Round 2010 yesterday (March 1) at the Geological Society of London. The licensing round will close March 1 2011.
PCJ will also be exhibiting at the 2010 Bid Round exhibition booth at the American Association of Petroleum Geologists (AAPG) Prospect and Property Expo (APPEX) on March 2-4 2010 at the Business Design Centre, Islington, London. Other planned events this year include participation at AAPG's meeting in New Orleans on April 11-14, and a presentation in Houston on April 27.
Contract terms include five-year exploration and 20-year production periods, the latter of which could be extended by 10 years; no restriction on production exports or repatriation of capital; and the ability to recover production costs, make return on investment, defray tax obligations, before sharing profit with government. Other terms are a 33.3% maximum income tax rate and/or possible tax exemption for a number of years, and permission to sell, farm-out or JV opportunities to other companies.
Jamaica has 31 offshore blocks, of which 12 are currently under production sharing contracts with three companies. On offer in the new licensing round will be the remaining nineteen offshore blocks plus four onshore exploration blocks. Closing date for applications is March 1 2011. For further information, visit: Jamaica 2010 Bid Round
CGGVeritas completed an extensive multi-client long-offset 2D survey offshore Jamaica in 2009. The survey was conducted in cooperation with the Petroleum Corporation of Jamaica (PCJ) to complement the second official offshore Jamaica licensing round.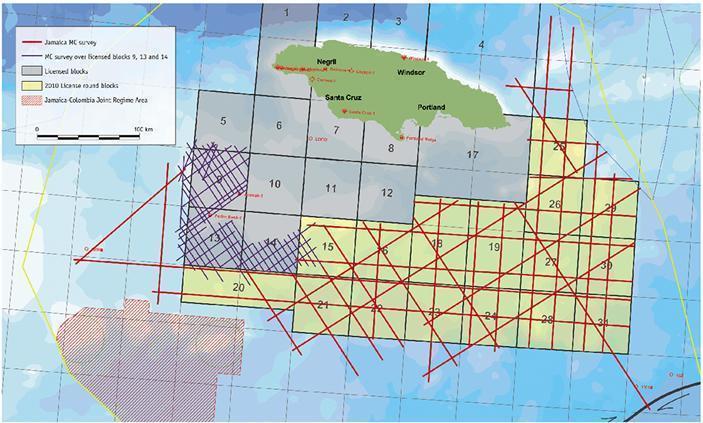 An interpretation of the CGGVeritas seismic data was presented. The main target horizon is the Tertiary and a number of dip and fault closed structural leads were highlighted. At least ten significant leads have been identified, the largest of which potentially offer multi-billion barrel potential.

Source: energy-pedia
back to top