News listings
energy-pedia development and production

Jordan
Jordan: Jordan agrees BP deal to develop Risha gas field
12 Oct 2009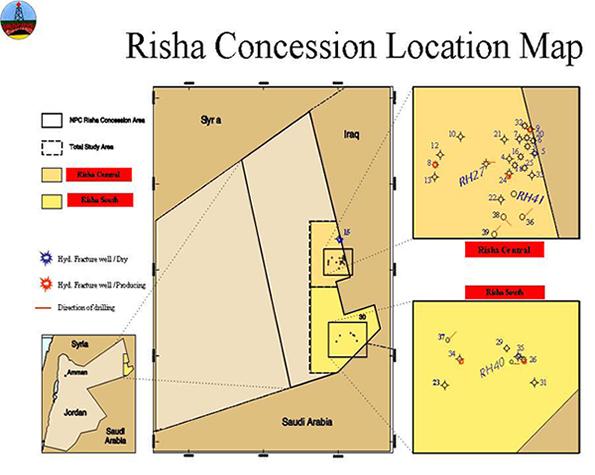 Jordan's government has approved the partnership agreements signed between the National Petroleum Company and BP on development the Risha gas field, which include amendments to concession, execution, shares and operations. Minister of Energy and Mineral Resources Khaldoun Qteishat said, under the agreements, the British company would enter partnership with the government in two phases. In the first phase, the company should spend $237 million on exploration and evaluation. The duration of the first phase is three to four years, extendable to one year, he said.
If the first phase proved to be promising, BP would enter phase two that includes development of the field and production. The company, Qteishat said, would spend between $8 to $10 billion in the second phase, adding that expected production would range between 330 to 1000 million cubic feet of gas per day.
The Minister of State for Communicationa and Media Affairs Nabil Shrif said this project is one of the most important projects for Jordan. He added if it succeds, it will enable the company to reach the target levels and to contribute effectively to achieve security of energy and meet Jordan's needs particularly in the field of power generation and industrial sector, moreover, the project will provide the possibility of exporting in case the production is at high rates.

Risha gas field
The Risha gas field was discovered in September 1986 and commenced production from the Ordovician Dubaydib Formation in May 1989. Production originally was from the Northern Area, from the main Risha area and from the Risha 8 pool.
The Southern Area comprises three gas pools, Risha 23, 26, and 28. Production began from these pools in August 2003 after they were connected to the northern area facilities via a 16-inch/51 km pipeline. By August 1997 daily output had increased from 27 MMcfg/d to 32 MMcfg/d. Production continued to rise and by August 2003 the field was producing 38 MMcfg/d. Dry gas produced from the plant is delivered by pipeline to the three 30-MW turbines in a nearby power plant that at one time accounted for 13% of the country's electricity.
The field, which started production in 1989, had initial recoverable gas reserves of 215 BCF, and has so far produced around 65 BCF. Current production is around 22 MMCFD. A study in 2000 of the Dubaydib reservoir lying below the main Risha reservoir has revealed an extensive gas-bearing interval, according to Jordanian sources. Most of the wells drilled after 1986 penetrated only the Risha member (upper section) of the Dubaydib. The NPC has set itself an ambitious target to increase gas production from the field to 300 MMSCFD by 2015.

For further information on exploration opportunities in Jordan, visit energy-pedia opportunities, our 'premium service'.
Source: energy-pedia
back to top