News listings
energy-pedia exploration
Lithuania
Lithuania: Tethys Oil reports disappointing results from Skomantai-1 well on the Gargzdai licence onshore Lithuania
05 Aug 2012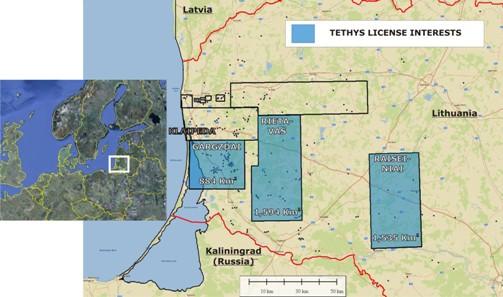 Tethys Oil reports that the work programme on the exploration well Skomantai-1 on the Gargzdai licence onshore Lithuania has been completed. The well has been suspended to allow for additional work in the future. The rig is moving to another location on the Gargzdai licence to drill a sidetrack in the Cambrian sandstone in an existing well.
The Skomantai-1 well had two objectives. The primary target was a previously undrilled oil prospect in the Cambrian sandstone near producing fields. The well was also drilled to evaluate the thick shale section overlaying the Cambrian sandstone for unconventional hydrocarbon potential. The well was drilled to a total measured depth of 2,431 metres. Oil was present in the Cambrian prospect target, but porosity was found to be insufficient to produce commercial quantities of oil.
An extensive data gathering was carried out on the shale section. Electric logs were recorded and seven cores with a total combined length of 63 metres were taken. The cores are being sent to a laboratory for analysis of various properties, including natural fracture, induced fracturing potential, porosity, permeability, source rock quality and maturity. The well has been suspended to allow for future work on the shale section.
The Gargzdai licence is owned by Lithuanian Company Minijos Nafta. Tethys Oil has a 25% indirect interest in the licence through an agreement with Odin Energi. Current production on the Gargzdai licence is in excess of 600 barrels of oil per day. In addition to the Gargzdai licence, Tethys holds in Lithuania interests in the non producing licences Rietavas and Raiseiniai. All licences are onshore.
Gargzdai licence

According to information on the Tethys Oil web site, the Gargzdai licence is located in western Lithuania. The daily production amounts to more than 700 barrels of around 42 degree API oil. In total, 15 million barrels of oil have been produced from Cambrian sandstone reservoirs. MN's proven and probable oil reserves are in excess of 6 million barrels according to independent petroleum consultant Miller Lents' estimate from May 2011. Proven, probable and possible reserves amount to more than 12 million barrels. A reservoir study made on the license area suggests that the reserves could be significantly increased with the use of modern alternative oil recovery techniques. The license also holds significant unconventional hydrocarbon potential, including exposure to Silurian/Ordovician shale sections.
Source: Tethys Oil / energy-pedia
back to top