OMNIS, in partnership with TGS and BGP, has announced the opening of the Madagascar 2018-2019 Licensing Round at Africa Oil Week 2018. On offer are 44 offshore blocks in the Morondava Basin, located on the western margin of Madagascar.
In the framework of the development of Madagascar's oil and gas potential, the Malagasy State through OMNIS continues to promote projects that attract new private investment in the short, medium and long term. OMNIS, together with TGS and BGP, has worked to create an attractive environment for offshore exploration.
Exploration in Madagascar began in the early 1900s with the discovery of hydrocarbon-rich sedimentary basins in the west, including the Tsimiroro heavy oil field and the Bemolanga tar sands. After over 100 years of exploration, the offshore of this frontier region remains largely under-explored. The Island shares a maritime boundary with Mozambique, a hydrocarbon province where large quantities of natural gas have been discovered.
Studies conducted on new data, in collaboration with TGS and BGP, suggest there is significant potential for future discoveries offshore.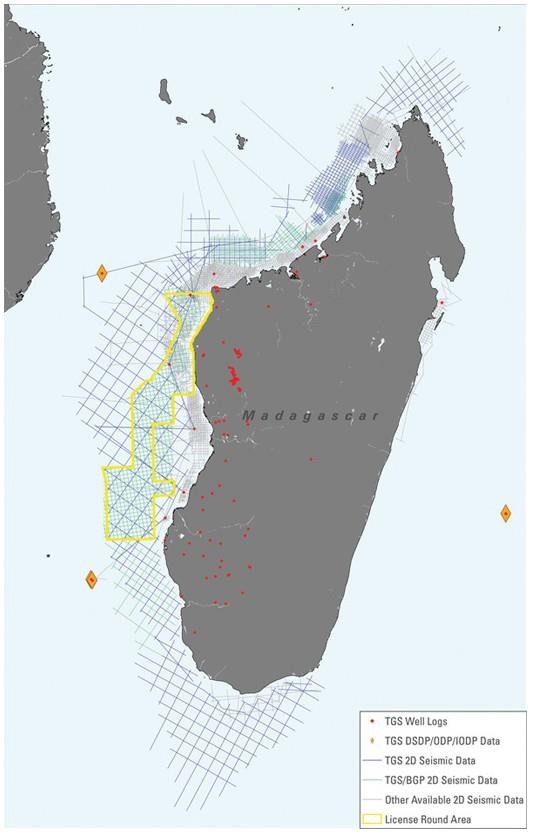 Highlights:
Blocks: 44 offshore blocks in the Morondava Basin, located on the western margin of Madagascar
Timing: The Round is open from 7 November 2018 to 30 May 2019, followed by a three-month awarding period
Roadshows: Will be held in Houston on Tuesday 19 February 2019, and in London on Tuesday 26 February 2019
Data access: Existing seismic and well data will be available for viewing at the TGS offices, in London and Houston; data packages will also be made available for clients
Madagascar has a prolific geology and a diversified portfolio of exploration and production opportunities. We strongly believe that the 2018-2019 promotional campaign will mark the intensification of exploration activities in Madagascar.
For more information please contact info@madagascarlicensinground2018.com or go to www.madagascarlicensinground2018.com
Source: TGS