News listings
energy-pedia exploration

Mali
Mali: Centric Energy and Heritage to acquire exploration seismic next year
07 Dec 2009

Centric Energy Corp has provided an update of exploration plans for its licences in Mali, West Africa. Centric Energy holds a 25% interest in Blocks 7 and 11 in eastern Mali. The remaining 75% is held by wholly-owned subsidiaries of Heritage Oil, which operates both licences after farming-in during 2008. Under the terms of the farm-in, Centric Energy is carried through the 2D seismic work programme over both Blocks and the first exploration well.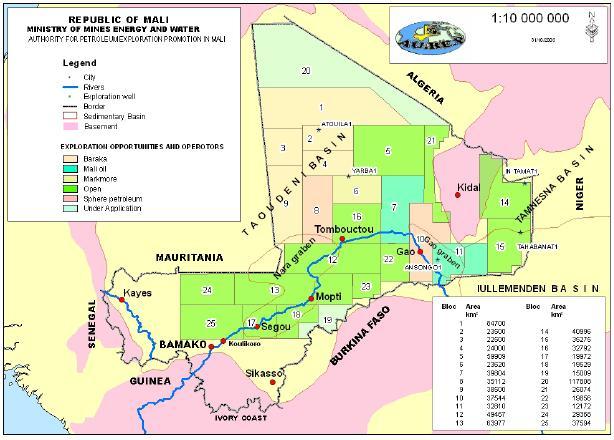 The Blocks have a total area of 72,000 sq kms (approx. 18 million acres) and are located in the Gao graben, a Mesozoic-age rift basin with up to 15,000 feet of Cretaceous-age sediments. The rift basin is well-defined by the interpretation of high-resolution aeromagnetic survey flown by Centric Energy in late 2007, totalling 42,000 kms of flight lines, supported by 1976-vintage seismic data.
Opportunities for hydrocarbon accumulations in African rift basins have been proven with discoveries such as those in the Agadem block in Niger; the Albertine graben in Uganda, where Heritage Oil has discovered major quantities of oil; and Chad, which has oil production of up to 200,000 barrels per day from the Doba basin.
The planned exploration activities in Mali for 2010 includes the acquisition, processing and interpretation of up to 354 kms of 2D seismic data in Block 11 and a firm budget of up to US$8.9 million (approx. C$9.4 million). The partnership is also considering continuing the seismic acquisition into Block 7. The start of acquisition is expected to be approx. mid-year 2010, after preliminary reconnaissance and fieldwork. It is expected that the interpretation of the seismic data will lead to the development of prospects for subsequent drilling.
Alec Robinson, President and CEO says: 'With these firm plans for acquisition of new seismic data in Mali, next year will be an exciting time for our exploration programme, with the potential to lead to exploration drilling in these Blocks in the following year. Centric Energy looks forward to working closely with our partner, Heritage Oil, on the continuing exploration of the Gao graben in Mali.'
Source: Centric Energy
back to top