News listings
energy-pedia development and production

Mexico
Mexico: International Frontier Resources receives drilling permit for Tecolutla block, onshore Mexico
11 Jan 2018

International Frontier Resources has provided an operations update on its onshore oil and gas block Tecolutla, and its Mexican joint venture, Tonalli Energia.
Tonalli was granted the right to operate, develop and produce hydrocarbons at Tecolutla through a licensing contract with the Mexican government. The Tecolutla block was awarded to Tonalli as part of the first round and third call of Mexico's oil and natural gas 'mature fields' bid round ('Round 1.3'), the first in almost 80 years. Each of the blocks offered in Round 1.3 attracted multiple bids. See IFR's news release of May 12, 2016.
The producing carbonate oil reservoir in the Tecolutla block is the El Abra formation at a depth of 2,340 meters. To date, 1.9 million barrels of oil have been recovered from four previously producing wells at Tecolutla. The wells at Tecolutla were drilled by PEMEX between 1956 and 1972 and had initial production rates up to 473 barrels per day.
Drilling Permit
Tonalli has secured the drilling authorization permit from Mexico's National Hydrocarbons Commission for its TEC-10 directional development well. TEC-10 will be the first Tecolutla well to target new locations within the reservoir with the advantage of 3D seismic that was recently completed by the previous operator and has now been reprocessed by Tonalli. Based on our interpretation of the 3D seismic, we believe the Tecolutla field has been significantly underdeveloped.
Tonalli intends to initiate its new Tecolutla development program utilizing modern drilling and completion techniques to increase productivity and recovery from the reservoir. In addition, offsetting field data obtained by Tonalli in Round 2.3 indicated reservoir properties and well productive capabilities of the El Abra that increased our confidence in the economic viability of the Tecolutla block.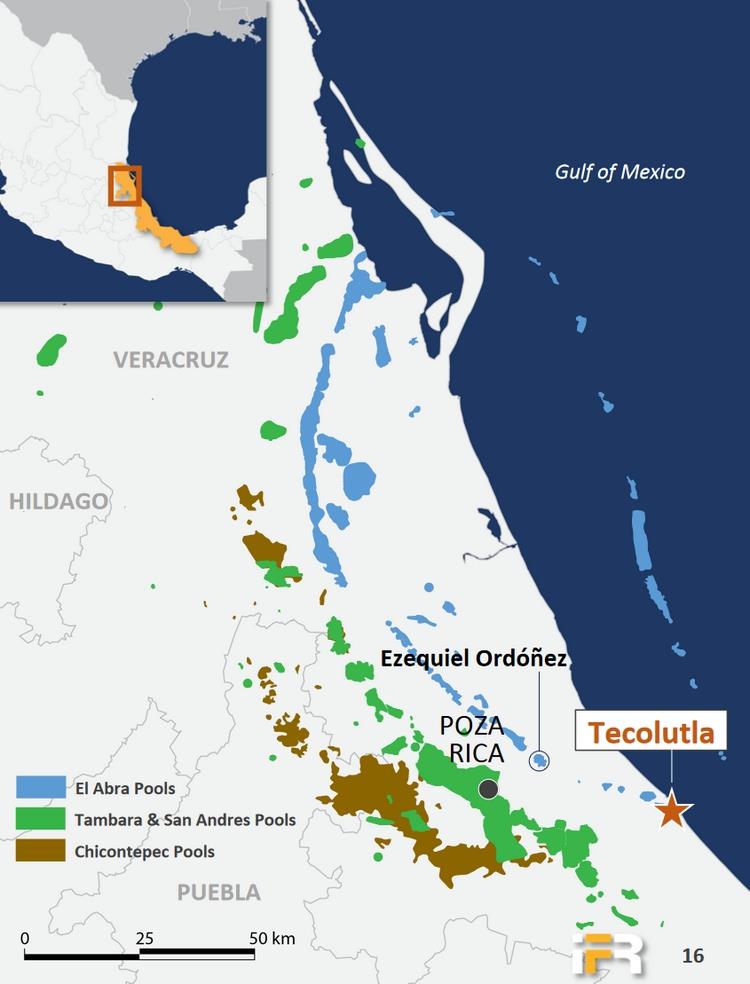 Progress at Tecolutla includes:
Additional regulatory permits required to drill and operate TEC-10 have been received.
Tonalli commenced construction of the infrastructure to enable access for services to drill TEC-10 which includes the completion of a high-grade access road leading to the TEC-10 drilling location. This critical piece of infrastructure provides year-round access to the Tecolutla field and allows development of the asset.
Tonalli commenced initial site preparations after completing engineering and surveying of the TEC-10 drilling site. The site is designed to accommodate the central production facility in addition to four horizontal and directional oil wells.
Potential production from TEC-10 will initially be trucked to existing PEMEX facilities in the area. These facilities all have idle capacity, favourable usage terms and have historically accepted crude oil drilled at Tecolutla. As the Mexican crude oil marketing framework emerges, Tonalli intends to pursue new markets for its production. The company is already engaged in discussions to explore markets for its future production.
Critical services required to drill the TEC-10 well have been secured. These services include an active drilling rig in Mexico, which just completed a successful multi-well drill program.
Tonalli has received approval of its administration plan from the National Agency of Industrial Safety and Environmental Protection of the Hydrocarbons Sector (Agencia de Seguridad, Energía y Ambiente) (ASEA). This approval resulted in Tonalli being officially recognized by ASEA as an operating company in Mexico. The next step in satisfying ASEA requirements is approval of the Industrial Safety Management System, Operational Safety and Environmental Protection (SASISOPA), commonly referred to as the "implementation plan." The implementation plan is an operations safety system manual used by Tonalli for oil and gas operations in Mexico. Tonalli and ASEA are working together diligently to finalize the implementation plan.
IFR and Tonalli will provide an update including a spud date as further approvals are received.
IFR was one of the first foreign companies to participate in the historic reform of Mexico's oil and gas sector. Last year, IFR assumed operatorship of the Tecolutla block from state-owned PEMEX. Tecolutla was acquired through a 50-50 joint venture with Mexican petrochemical leader Grupo IDESA.
Source: International Frontier Resources
back to top