News listings
energy-pedia exploration

Mozambique
Mozambique: Anadarko announces new exploration and appraisal success offshore Mozambique
05 Oct 2011

Anadarko Petroleum Corp has announced the cumulative results of its exploration and appraisal success offshore Mozambique have substantially increased the resource potential in the Offshore Area 1 of the deepwater Rovuma Basin. The appraisal section of its most recent exploration well at the Camarao Prospect encountered approx. 240 net feet (73 meters) of natural gas pay in an excellent-quality reservoir and confirmed static pressure connectivity with the partnership's previously announced Windjammer and Lagosta discoveries. In addition, the Camarao well discovered approx. 140 net feet (43 meters) of natural gas pay in shallower Miocene and Oligocene sand packages not encountered in previous wells.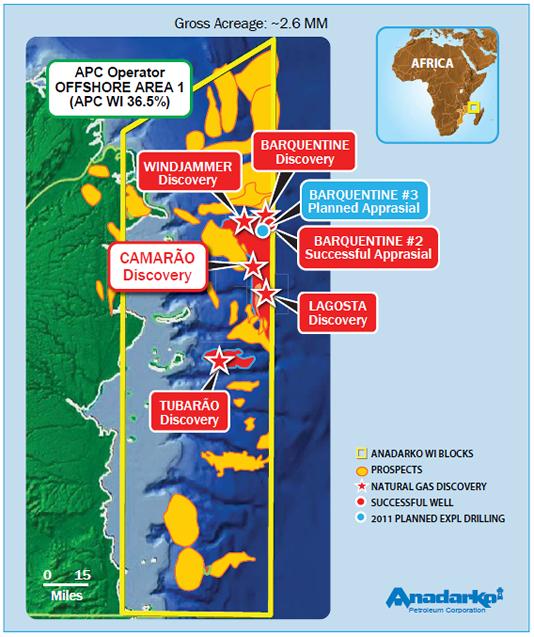 'Our successful drilling program offshore Mozambique continues to expand the already world-class resource potential of this frontier basin,' said Bob Daniels, Anadarko Sr. Vice President, Worldwide Exploration. 'The results of our activity to date provide high confidence that the Windjammer, Barquentine, Lagosta and Camarao complex holds at least 10 Tcf (trillion cubic feet) of recoverable natural gas resources. We are optimistic that our current resource estimates will increase, as we still have significant exploration and appraisal work ahead of us, including the evaluation of two newly acquired 3D seismic datasets and expanded prospect opportunities. We are mobilizing a second deepwater drillship to the Rovuma Basin to accelerate the campaign, which includes an extensive reservoir testing program and up to seven exploration/appraisal wells over the next 12 months.'
Chuck Meloy, Anadarko Sr. Vice President, Worldwide Operations, said, 'Given the increased resource potential of this complex, our base case development plans have now been expanded to a minimum of two 5-million-tonne-per-annum trains with the flexibility to develop additional trains based upon continued exploration and appraisal success. Once the first two trains are constructed, this infrastructure is expected to provide economies of scale that can reduce expansion costs for any additional trains. Further, we anticipate the results of our drillstem testing program will help determine the optimal number of subsea development wells and offshore facility requirements. We expect to provide further details regarding this world-class development by early next year.'
The Camarao discovery well was drilled to a total depth of approx. 12,630 feet in water depths of approx. 4,730 feet. The well is located approx. 5 miles south of the partnership's original Windjammer discovery and approx. 10 miles north of its Lagosta discovery. The Camarao well will be preserved as part of the partnership's drillstem testing program, and the drillship will be mobilized north to drill the Barquentine-3 appraisal well.
Anadarko is the operator of the 2.6-million-acre Offshore Area 1 with a 36.5-percent working interest. Co-owners in the area are Mitsui E&P Mozambique Area 1 (20 percent), BPRL Ventures Mozambique (10 percent), Videocon Mozambique Rovuma 1 (10 percent) and Cove Energy Mozambique Rovuma Offshore (8.5 percent). Empresa Nacional de Hidrocarbonetos, E.P.'s 15-percent interest is carried through the exploration phase.
Click here for partner Cove Energy's Press release.
Source: Anadarko
back to top