News listings
energy-pedia general news

Mozambique
Mozambique: BP and Shell vying for stake in Eni's Mozambique gas field
19 Mar 2012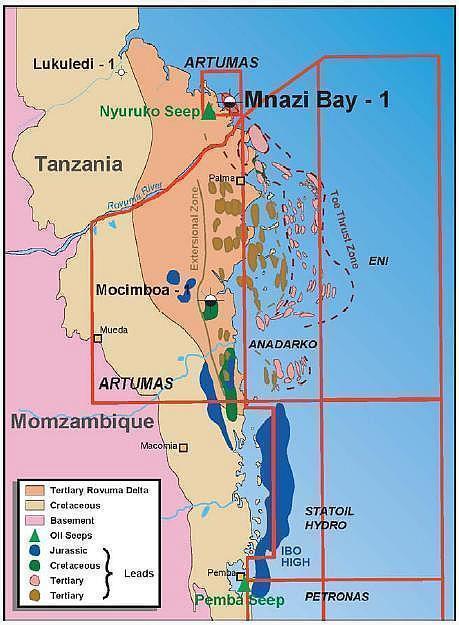 British energy giant BP and Royal Dutch Shell are vying to acquire a 20 percent stake in Italian oil and gas giant Eni's gas field in Mozambique and to partner it in drilling, according to the Independent on Sunday. Meanwhile, French oil company Total is also said to be in the fray for buying the stake.
BP and Shell are looking to acquire the 20 percent stake in the giant gas discovery in Mozambique for more than about $4 billion or 2.5 billion British pounds. Rome, Italy-based Eni is seeking to sell a stake in what is claimed by it to be the biggest gas find in its history. In return, it will seek help in taking over the capital expenditures arising from the drilling operations.
Eni has a 70 percent participating interest in the giant gas discovery Mamba South 1, located in Area 4 in the offshore Rovuma Basin in the east African nation. Eni is the operator of the offshore Area 4, with the co-owners in the area being Portuguese oil and gas company Galp Energia, Korea Gas Corp (KOGAS), and state-owned ENH, each holding a 10 percent interest. ENH is the national oil company of Mozambique and is 100 percent owned by the State, while Eni has a one-third stake in Galp Energia.
Eni said the giant discovery in Mozambique has exceeded expectations and opens new growth opportunities in the gas market, with the Rovuma Basin confirmed as a world-class natural gas province. The massive gas find also opens up extraordinary development opportunities and is ideally placed to serve the fast-growing Asian gas markets.
Eni announced the offshore Mozambique gas find in October 2011. The Mamba South 1 discovery well is located in water depths of 1585 meters about 40 km off Cabo Delgado coast, in the Northern offshore of Mozambique. This is the first exploration well in Area 4, with a total of 212 meters of continuous gas pay in high-quality Oligocene sands.
Eni also announced in mid-February the Mamba North 1 discovery, located in water depths of 1,690 meters, reaches a total depth of 5,330 meters and is located about 23 km north of Mamba South 1 discovery and 45 km off the Capo Delgado coast. The discovery well encountered a total of 186 meters of gas pay in multiple high-quality Oligocene and Paleocene sands.
During 2012, Eni plans to drill at least other five wells in nearby structures to assess the upside potential of Mamba Compex.
Background
Eni announced in November 2011 it will invest $50 billion developing its huge Mozambique natural gas discovery with a view to exporting the gas to Asian markets. Eni's recent discovery of 22.5 trillion cubic feet of natural gas in Mozambique, and earlier discoveries in Tanzania, are part of the transformation of East Africa into a fast-growing gas hub, and confirms the region's growing importance as a launch pad for exports to gas-hungry Asia. See: Eni CEO sees $50 billion Mozambique gas investment
Source: RTTNews.com via Nasdaq / energy-pedia
back to top