News listings
energy-pedia development and production

Netherlands
Netherlands: Cirrus Energy begins production at M7-A field
14 Sep 2009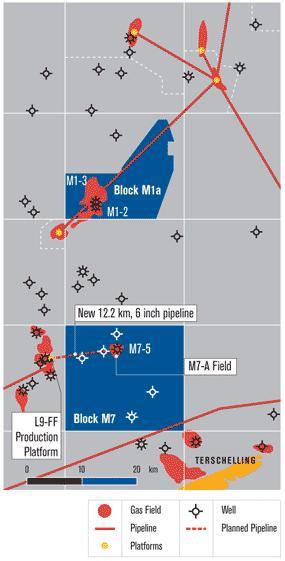 Cirrus Energy Corporation has announced that its wholly owned subsidiary in The Netherlands, Cirrus Energy Nederland B.V. has successfully completed the drilling and testing of the M7-A01X production well on the M7-A Field.
The well was spudded with the Noble Lynda Bossler jackup drilling rig on July 17, 2009 and reached a total drilled depth of 3,560 m on September 3, 2009. The quality of the primary Triassic reservoir is higher than in the original discovery well and, during clean up, the well flowed at a maximum rate of 43.1 MMscf/d at a FWHP of 261 bar (3,786 psig) through a 48/64"choke.
The well has been tied in to the fully commissioned M7-A platform and export facilities and production commenced on September 12, 2009. The long term average production rate is limited by capacity at the export facilities at 21.0 MMscf/d, which is expected to result in an extended period of plateau production.
The price received for Dutch gas is based on a basket of alternative energy sources and historically has closely followed that of crude oil with a lag of about 6 months. At a Brent oil price of US$70.00 per barrel, the future realised price for M7-A gas is expected to be about C$9.50 per thousand cubic feet.
Partners in the M7-A development are Cirrus 42.75% and operator, DSM Energie B.V. 5.0%, Energy06 Investments B.V. 2.25% and EBN 50%.
Cirrus President and CEO David Taylor comments; "The start-up of the M7-A Field marks a significant milestone for Cirrus in the Netherlands as both the company's first operated, completed development project and first production in the country. This achievement underscores a core component of our business strategy in The Netherlands where we intend to establish Cirrus as a motivated and capable developer of similar discovered and undeveloped fields."
Source: Cirrus Energy

back to top