News listings
energy-pedia development and production

Nigeria
Nigeria: Marginal field operator Millennium Oil & Gas re-enters Oza oil field
27 Jul 2011

Millennium Oil & Gas (MOGCL), operator of the Oza field in Abia state, has successfully re-entered and completed oil wells in the Oza field in a bid to bring the abandoned asset to production. The company said in a statement that this development was coming at a time when marginal field operators were still sourcing funds to convert their assets into sources of steady cash flow, following the Federal government's recent extension of permits for the operators.

According to the statement, the company is currently conducting Downhole Reservoir and Maximum Efficiency Rate (MER) tests to establish reservoir properties as well as determine optimum surface and down-hole production parameters. The statement added that the exercise is being conducted with the supervision of the Department of Petroleum Resources (DPR).

With this feat, Millennium Oil has joined the club of other marginal field operators such as Energia, Platform, Walter Smith, Mid -Western Oil, Niger-Delta Producing Company, which have successfully brought their fields to production.

Commenting on this milestone, the Managing Director of Millennium Oil and Gas, Mr. Chiedu Ebie, applauded his team's effort, describing it as a very significant milestone as they draw closer to getting the first-oil target ahead of schedule. He stated that having gone through the challenges of coordinating finance and the deployment of technology, the company now looks forward to contributing to Nigeria's crude oil production soon.

'Millennium's steady transformation of this once 'uneconomical asset' inherited from Shell Petroleum Development Company (SPDC) into a producing field is very laudable, given the recent spate of economically driven kidnapping and crime in Abia state. The state now stands to enjoy the collateral economic benefit which will help in alleviating poverty, create employment and bring development to the area,' the statement added.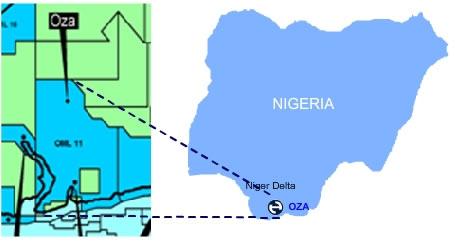 The Oza Field, located on land in the north western part of Oil Mining Lease (OML) 11, near Port Harcourt , was subject to a farm-out agreement between NNPC, SPDC, Elf Petroleum Nigeria and AGIP as farmor and Millennium as farmee. The terms of this agreement were for an initial five year period from 27 April 2004 subject to an extension of the Oza farm-out agreement if approved by the Department of Petroleum Resources (DPR).

The Oza field was discovered in 1959 with the discovery well, Oza-1, drilled to a depth of 3,279 metres. OML 11 is held by a joint venture operation between NNPC, SPDC, ELF Petroleum Nigeria and AGIP (the OML 11 Joint Venture Parties). Pursuant to the farm-out agreement dated 27 April 2004, between the OML 11 Joint Venture Parties and Millennium, Millennium is the operator of the Oza field and has responsibility for undertaking the exploration, prospecting, winning, working and carrying away of petroleum in respect of the Oza field.
Source: thisdaylive.com
back to top