News listings
energy-pedia development and production

Norway
Norway: DEA Norge's Dvalin H25 module installed on the Heidrun platform
14 May 2018

Six days after leaving the yard in Haugesund, the Dvalin H25 module is now installed on the Heidrun platform.
The actual lift from the heavy lift vessel S 7000, was performed in the early morning this Monday. Dvalin Topsides Manager Roy Padgett reports:
'I have to thank everyone involved for making this a very smooth and safe operation. Everything went according to plan – even the weather was excellent. The H25 module installation is a huge milestone for the project', he says
The H25 module is a MEG and Methanol utility module to the main process module M40. The M40 module is currently under construction at the Aibel yard in Haugesund.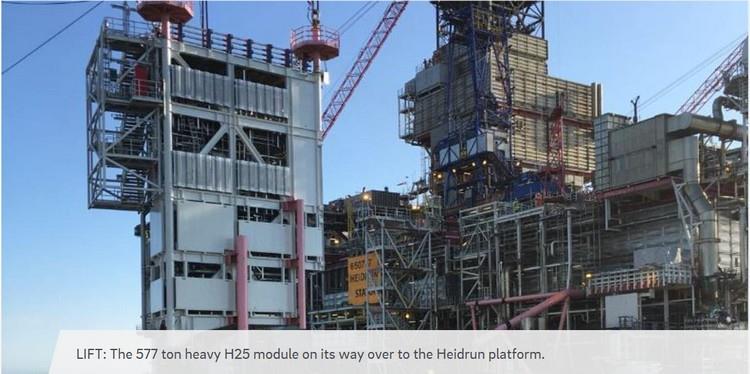 Dvalin field
The Dvalin gas field, previously known as Zidane, discovered in 2010, is DEA's first own operated field development project in Norway. The redesigned development concept aims for sustainable profitability, while applying the highest safety and environmental protection measures.
The field is located in Production Licence (PL) 435, approx. 15 kms northwest of the Heidrun field and 35 kms south of the Skarv field in the Norwegian Sea. The licence was awarded in the Awards in Predefined Areas (APA) 2006.
The Plan for Development and Operation (PDO) was submitted to the Authorities in October 2016. First gas is expected in 2020.
Click here for further information on the Dvalin field
Source: DEA Norge
back to top