TransGlobe Energy has announced the ratification of the consolidated and amended Eastern Desert Production Sharing Contracts.
Production Sharing Contract Ratification
TransGlobe has received notification that its agreement with the Egyptian General Petroleum Corporation ('EGPC') to merge, amend and extend its three existing Eastern Desert concessions (West Gharib, West Bakr and North West Gharib) has been ratified into Egyptian Law.
The newly ratified Agreement extends the concession life with a 15-year development term and a 5-year extension term, modernizes the fiscal terms to promote investment across a broad range of commodity prices, and merges the existing concessions to substantially increase operational and financial efficiencies. See our news release dated December 3, 2020 for details related to the Merged Concession.
The Company will now be required to deposit the first modernization payment ($15 million) and signature bonus ($1 million) as a condition precedent for the Minister of Petroleum and Mineral Resources to sign the amended concession Agreement. This is expected to occur in the coming weeks, at which point the Agreement becomes effective from February 1, 2020.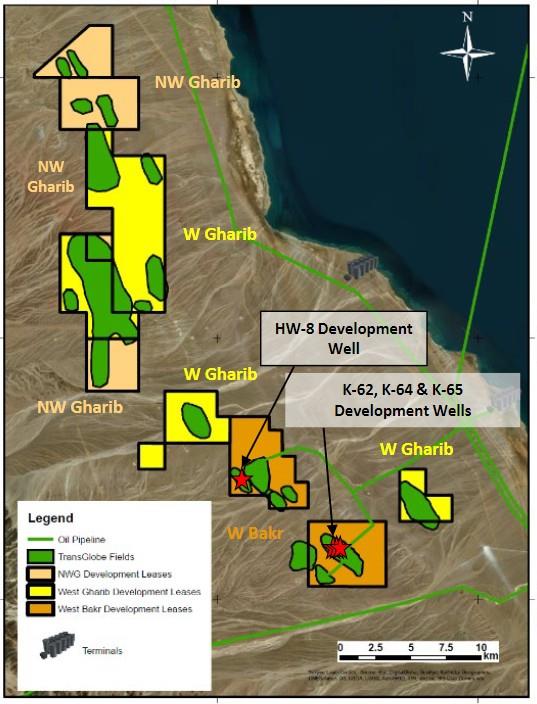 Randy Neely, President and CEO's Statement
'We are thrilled to announce the formal ratification of the Agreement with EGPC. This event marks the culmination of years of collaboration between TransGlobe and EGPC and is a testament to the hard work of all those involved in the process.
With ratification behind us, TransGlobe intends to continue to increase investment and production from our Eastern Desert acreage. We look forward to continuing our partnership with EGPC as we work to unlock the full potential of the Eastern Desert concessions through the application of both conventional and novel technologies. We also believe that with this transformative change accomplished, TransGlobe is well positioned to seek out opportunities to expand our international portfolio, with a primary focus in Egypt.
To reassure our shareholders, TransGlobe intends to maintain its fiscal prudence. We expect to fund the incremental development and modernization payments through cash flow from operations. The improved fiscal terms better position the company to generate increased free cash flow for the benefit of our shareholders, and, with commodity prices cooperating, we expect to revisit our dividend policy in 2022.'
Source: TransGlobe Energy