News listings
energy-pedia development and production

Russia
Russia: PetroNeft Resources provides operations update
18 Dec 2014

AIM-listed PetroNeft Resources, owner and operator of Licences 61 and 67, Tomsk Oblast, Russian Federation, has provided an update on operations
Licence 61
Arbuzovskoye 106 well now in production at a stabilised average rate of 170 bopd
Arbuzovskoye 103 well drilling ahead
Drilling of Tungolskoye 5 horizontal well continuing
Total production now at 1,850 bopd
Seismic crew mobilised to the Sibkrayevskoye field
Licence 67
Processing and interpretation of 3D seismic survey completed
Reserves calculation for Russian State Approval being finalised
Corporate
Weakening Russian Rouble acting as a natural hedge to falling oil prices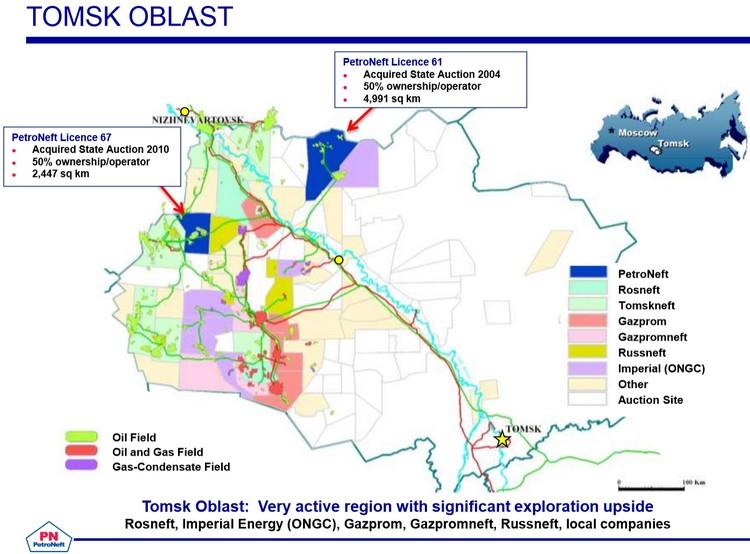 Licence 61
Arbuzovskoye
Following some delays the Arbuzovskoye 106 well has successfully encountered oil in the Upper Jurassic (J-1) formation at a depth of 2,465 metres, TVD. The well been brought into production at a stabilised rate of 170 bopd with no visible water cut. This rate exceeds pre-drill estimates of between 100-150 bopd.
Arbuzovskoye well 103, the next well in the drilling programme, is currently drilling ahead. This well is the southernmost well drilled at Arbuzovskoye to date and will help determine if further wells will be drilled in the southern lobe of Arbuzovskoye.
Tungolskoye
The horizontal segment of the Tungolskoye No. 5 well is currently being drilled, however drilling progress to this point has been slower than originally estimated. Production results on the horizontal segment are currently expected in January 2015. The pilot hole previously confirmed the structure, the net pay (8.2 m) and commercial oil flow (100 bopd non-stimulated) at the crest of the structure. The well is being drilled under a turn-key contract so additional time will not result in additional cost. The main regulatory approvals required for the development of the Tungolskoye field have been obtained and the tendering process for the various services and materials required for this work programme is well underway.
Sibkrayevskoye
The rig for the Sibkrayevskoye No. 373 well is currently being erected. It is expected that drilling will commence in February 2015.
The seismic crew has been mobilised to the field and work is well underway on the programme to acquire 1,000 km of high quality 2D seismic data across the Sibkrayevskoye oil field and other fields and prospects in the northern portion of Licence 61. The main acquisition of data will occur in the first quarter of 2015 with final interpreted results being available in Q3 2015. This will help formulate our work programme beyond the current drilling campaign.
Total production from Licence 61 is currently about 1,850 bopd.
Licence 67
The processing and interpretation of the 156.84 sq km of 3D seismic data acquired over the Cheremshanskoye and Ledovoye oil fields in Q1 2014 has been completed. The reserves calculation for the two fields based on the 3D seismic data is being prepared for submittal and approval at the Russian State Reserves Committee in Moscow.
Oil price and Russian Rouble
While oil prices have fallen internationally in recent months, so too has the Russian Rouble as compared to the US Dollar. The vast majority of operating costs and capital expenditure are denominated in Russian Roubles and this acts as a natural hedge to falling oil prices. It should also enable PetroNeft to undertake more capital expenditures pursuant to the US$45 million farm-in carry being financed by Oil India Limited.
Dennis Francis, Chief Executive Officer of PetroNeft Resources, commented:
'I'm very pleased with the rate achieved from the first new well drilled at Arbuzovskoye since February 2013 and look forward to updating shareholders with the results of the additional wells at Arbuzovskoye. The pilot hole at Tungolskoye has achieved its objectives in confirming the structure, net pay and oil flow and we look forward to the production test result from our first horizontal well in the New Year.'
Source: PetroNeft
back to top