News listings
energy-pedia licensing

Sri Lanka
Sri Lanka ready to nominate OVL for oil and gas blocks - update
18 Feb 2011
The Sri Lankan government is willing to award three hydrocarbon blocks in its northern offshore area to India's ONGC Videsh (OVL) on a nomination basis, in what is being regarded as a diplomatic breakthrough.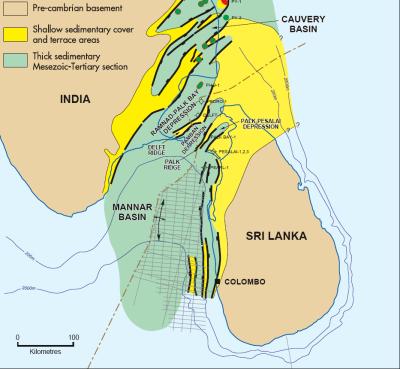 An OVL team is scheduled to visit Sri Lanka shortly for discussions on the C1, C2 and C3 blocks, which will mark OVL's entry into the island nation. The overseas arm of Oil and Natural Gas Corp (ONGC) has been trying to secure blocks on a nomination basis for some time now with the active support of the Indian government.
'We are working in the Cauvery and Mannar basin and had submitted our proposal earlier to the Sri Lankan government. We want these blocks on a nomination basis,' said a senior OVL executive, who did not want to be identified. 'They are willing to do so with government of India support. OVL will do a seismic study of the basin at its own cost. They had earlier offered us a block there, but we didn't agree to it.'
The effort is seen as India's attempt to engage Sri Lanka politically and economically at a time when China is becoming increasingly influential in that country. At the moment, state-owned firms such as OVL are locked in a fierce competition for energy assets with rivals, including China National Petroleum Corp, Sinopec Corp and CNOOC.
The issue is being dealt with by Sri Lanka's Petroleum Resources Development Secretariat. The development comes on the back of a meeting held between India's former petroleum minister Murli Deora and Sri Lanka's minister of petroleum industries Susil Premajayantha in November. After the meeting, the proposal was discussed during the seventh session of the India-Sri Lanka joint commission held in Colombo last year at which it was agreed that Indian firms will be "encouraged to participate actively in future oil and gas exploration activities in Sri Lanka, including in the Cauvery and Mannar basins".
While the Indian ministry of external affairs did not formally respond to questions emailed on Tuesday, a foreign ministry official, who did not wish to be identified, confirmed that the OVL delegation was to visit Sri Lanka to look at the blocks soon. 'We are interested in these blocks, but the talks are at a very preliminary stage and we have to wait for the OVL team's report,' he said.
A Sri Lankan diplomat posted in New Delhi, who requested anonymity, confirmed the development, saying, 'The matter is still under consideration.'
'There is no doubt that our diplomatic interaction with Sri Lanka has been quite mature. There is a certain element of goodwill and trust in India-Sri Lanka relationship in spite of minor irritants. Both countries have been looking beyond proximity-based problems at future relationship. It is because of these reasons that such economic gains will be registered,' said Krishna V. Rajan, former secretary (east) in the ministry of external affairs.
OVL has a current production of around one million barrels per day of oil and gas equivalent and has a presence in 15 countries through 40 exploration and production projects.
A communication dated 31 December from OVL managing director R.S. Butola to Premajayantha, and reviewed by Mint, stated, 'ONGC with its experience in Indian part of offshore Cauvery basin will be highly effective in realizing the prospectivity in contiguous Sri Lankan territory over any other entity.'
The latest oil shock has re-emphasized the urgency for India to evolve a solution to secure its future energy needs. The existing energy plan envisages India's dependency on imports to increase to 90% by 2030—a period in which the country will strive to achieve double-digit economic growth, from 8% in the year ended March. India's consumption of petroleum products has grown at an annual compounded growth rate of around 4% in the last seven years and, according to the International Energy Agency, consumption is expected to rise to 135 million tonnes per annum (mtpa) by 2012 from 112 mtpa now.
Source: livemint.com
back to top