News listings
energy-pedia general news

Sudan
Sudan: ECOS report blames Sweden's Lundin Petroleum for Sudan war crimes
08 Jun 2010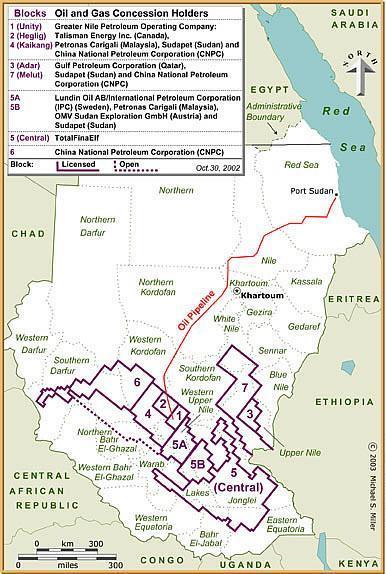 A consortium operated by Sweden's Lundin Petroleum is partly to blame for war crimes committed in Sudan between 1997 and 2003, according to a report issued by the European Coalition on Oil in Sudan (ECOS). ECOS, an umbrella group of European organisations 'working for peace and justice in Sudan', said it believed Lundin and its consortium partners - Malaysia's Petronas Carigali and Austria's OMV - 'may have been complicit in the commission of war crimes and crimes against humanity'" in Sudan. Lundin Petroleum, previously called Lundin Oil, denied the allegations.
The 100-page report said Lundin's consortium, which also included the Sudanese state-owned oil company Sudapet, had signed a contract with Khartoum for oil exploitation in a concession area called Block 5A in the south 'that was not at that time under full government control'. 'The start of oil exploitation set off a vicious war in the area. Between 1997 and 2003, international crimes were committed on a large scale in what was essentially a military campaign by the government of Sudan to secure and take control of the oil fields in Block 5A,' it charged. The crimes were mainly committed by the Sudanese army and its main opponent the Sudan People's Liberation Movement/Army (SPLM/A).
The ECOS report argues that the Lundin consortium had set the wheels in motion by signing its contract with Khartoum 'without any guarantees that human rights and international law would be respected'. The report also charged that the Swedish, Austrian and Malaysian governments had 'failed in their international obligations to prevent human rights violations and international crimes'. It called on them to investigate whether the consortium members knew or should have known that their activities 'assisted those who were responsible for gross human rights abuses'.
According to ECOS, some 12,000 people were killed or died from hunger, exhaustion and conflict-related diseases in the Block 5A from 1997 to 2003, while around 160,000 people were forcibly displaced.
In an open letter to Lundin Petroleum shareholders posted on the company's web site, Chairman Ian Lundin insisted the report presented no new evidence of any wrongdoings, pointing out the company had refuted similar charges in the past.
Open Letter to Lundin Petroleum's Shareholders

Dear Shareholders,

A report has been issued in Stockholm about the alleged role of certain companies, including Lundin Petroleum, in Sudan from 1997 to 2003. There is no new evidence in this report; it essentially reiterates inferences, insinuations and false allegations based on partisan and misleading information which were refuted at the time in a document entitled 'Lundin Oil in Sudan, May 2001'.

We again categorically refute all the allegations and inferences of wrongdoing attributed to Lundin Petroleum in the report. We strongly feel that our activities contributed to peace and development in Sudan.

As we explained in 'Lundin Petroleum's Experience in Sudan' in 2003, we were attentive during the time we were in Sudan to the impact of our activities on the local communities and were actively engaged with stakeholders in order to promote peace and welfare. We held regular meetings with government representatives both in Sweden and in Sudan, local communities, shareholders, NGOs and media and
cooperated with anyone who was concerned about peace and prosperity in Sudan. We acted at all times in a fully transparent way, inviting any concerned party to the Block 5A concession to see and judge the situation first-hand.
The Comprehensive Peace Agreement (CPA) signed between the Government of Sudan and the Southern Sudanese representatives in 2005 validated our view that oil could be used to achieve a sustainable peace. The CPA has held out, despite the many challenges in getting former opponents to work alongside for the good of the country and its people; all efforts should now focus on assisting parties in this
difficult process of reconciliation.

One can question the motives behind issuing such a report in this context, but what is unquestionable is that Lundin Petroleum has, at all times, been concerned with the interests and respected the rights of the people of Sudan.
Source: Newswires / Lundin Petroleum
back to top