News listings
energy-pedia development and production

Syria
Syria: Gulfsands receives approval to develop block 26 Yousefieh oil field
26 Jan 2010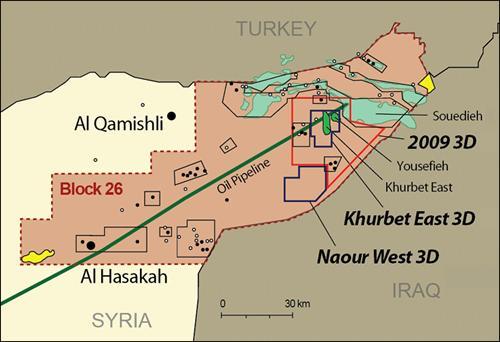 Gulfsands Petroleum plc, the oil and gas production, exploration and development company with activities in Syria, Iraq, and the USA, has confirmed that the application to develop the Yousefieh oil field has been granted by Syrian Authorities
The discovery of oil at Yousefieh-1, located approximately 3 kilometres east of the Khurbet East Field, was made in November 2008, with two subsequent appraisal wells being drilled in 2009.
Gulfsands has now received confirmation from Syria's General Petroleum Corporation that Gulfsands Petroleum Syria Limited has been granted permission to develop the Yousefieh Oil Field accumulation in Block 26 North East Syria. A production license of 25 years duration has been granted, with the possibility of an extension if required, for a further 10 years.
The Yousefieh Field was assessed at the end of 2008 as containing gross proved plus probable reserves of 11 million barrels of oil. A further update on Yousefieh Field estimated gross reserves will be provided at the beginning of the second quarter 2010.
First oil from Yousefieh is anticipated early in April 2010. Production will commence from 2 wells, Yousefieh-1 and Yousefieh-3, at an expected initial combined rate of up to 1000 barrels of oil per day (bopd).
Production from the wells will be closely monitored to assess flow performance and to determine whether the Yousefieh reservoir benefits from the same strong aquifer pressure support as is observed in the nearby Khurbet East Field.
The current expectation is that the Yousefieh field has lower reservoir energy than Khurbet East and planning is underway to install permanent down-hole artificial lift equipment in both Yousefieh wells later in the year. In addition, a further development well on Yousefieh is planned for 2010.
It is anticipated that production from the Yousefieh Field will reach a rate of approximately 6000 barrels of oil per day by 2012.
Ric Malcolm, Gulfsands CEO, said; "We are delighted to have received the Syrian Government's early confirmation of development approval for the Yousefieh field and now look forward to commencing production as soon as practicable. The early production data obtained will provide valuable information that will assist us in optimizing the development of the field."
Gulfsands owns a 50% working interest and is operator of Block 26 in North East Syria. The Khurbet East oil field was discovered in June 2007 and commenced commercial production within 13 months of the discovery. This field is producing at an average gross production rate of approximately 17,300 barrels of oil per day through an early production facility.
Block 26 covers approximately 8,250 square kilometres and encompasses existing fields which currently produce over 100,000 barrels of oil per day, and are operated mainly by the Syrian Petroleum Company. The current exploration license expires in August 2010 and is extendable for a further two years. Gulfsands' working interest 2P reserves in Syria at 31 December 2008 were 35.2 mmbbls.
Source: Gulfsands

back to top