News listings
energy-pedia licensing

Tanzania
Tanzania: Antrim Energy signs agreements for the Pemba - Zanzibar exploration licence offshore and onshore Tanzania
20 Dec 2010

Antrim Energy has announced that two agreements have been signed which are expected to lead to the resumption of exploration activities on the Production Sharing Agreement for the Pemba - Zanzibar exploration licence offshore and onshore Tanzania (the 'P-Z PSA').
Antrim Energy has signed an agreement with Ras Al Khaimah Gas Tanzania (RAK Gas) and NOR Energy whereby Antrim Energy has replaced its previous right to be carried through the pre-drilling exploration phase of the P-Z PSA with a 20% carried interest through the pre-drilling phase and an additional 10% right to participate in the P-Z PSA to be exercised up to 180 days following receipt of the initial drilling results. The carried interests (up to 30%) are to be repaid from future production. Antrim Energy's previous option was acquired in 2006 as part of a sale of several assets to NOR, including its wholly owned subsidiary Antrim Resources (Tanzania).
Concurrent with this agreement, RAK Gas and NOR have entered into an agreement that provides RAK Gas with the option to acquire control of the P-Z PSA. As part of this agreement, RAK Gas has undertaken to re-negotiate the P-Z PSA exploration work programme with Tanzania Petroleum Development Corporation (TPDC) and to secure access rights to the licence area from the relevant authorities.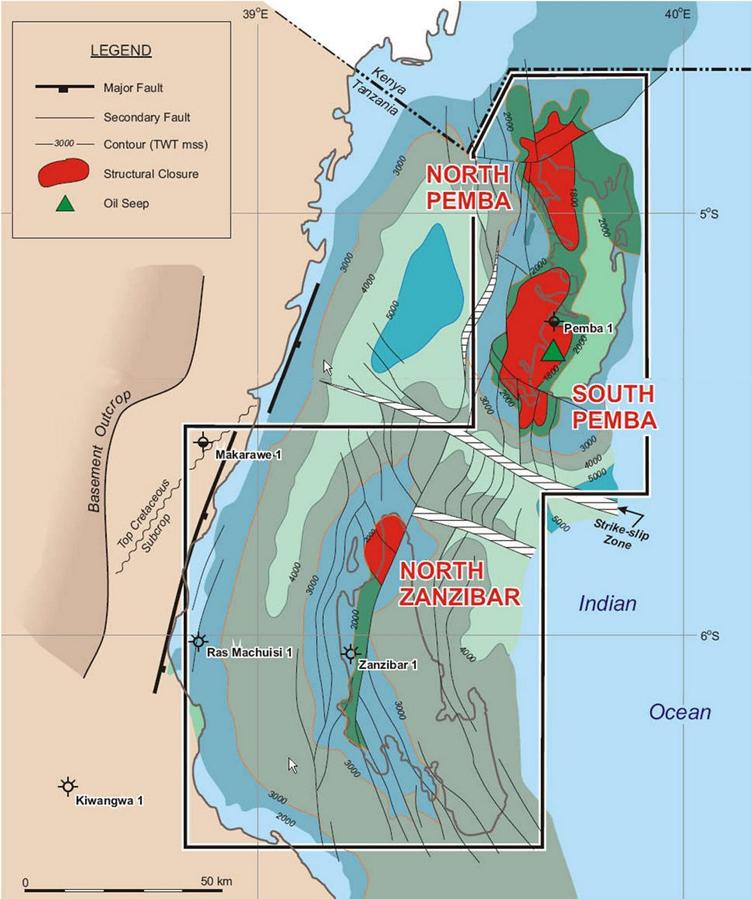 The licence, which covers 3.5 million acres (14,060 km2), is in a highly prospective oil and gas region that has recently seen significant exploration activity. Licences on trend are held by Shell, Exxon Mobil, Statoil, Petrobras, Ophir Energy, British Gas and Tullow Oil. TPDC expects up to ten offshore wells will be drilled in offsetting licences in 2010 - 11, including a three well programme by Ophir - British Gas (two of which were drilled in 2010), two wells planned by Petrobras, one by Statoil, and one by Dominion. The two wells drilled by British Gas under a farmout with Ophir, the Pweza-1 well in October and the Chewa-1 well in December, were both announced by British Gas as gas discoveries.
The Pemba - Zanzibar block has a proven hydrocarbon system, as evidenced by the Tundaua oil seep on Pemba Island and oil shows in previous exploration wells. Multiple source rocks and petroleum reservoirs are anticipated and numerous prospects mapped. Approx. 75% of the licence lies in water depths of less than 200 metres, with the islands of Pemba and Zanzibar providing potential for on-shore directional drilling.
RAK Gas is the state natural gas utility of the Emirate of Ras al Khaimah in the UAE. RAK Gas has interests in two offshore blocks in Ras al Khaimah as well as holding interests in exploration blocks in East Africa and Egypt, including the East Pande block in Tanzania.
Stephen Greer, President and CEO of Antrim Energy, commented: 'We are very encouraged by the entry of RAK Gas into this licence. The Pemba-Zanzibar block has enormous exploration potential, and the area has recently been attracting considerable interest from major petroleum companies. We expect these two agreements, and the participation of RAK Gas in particular, will lead to a resumption of exploration activity on the Pemba-Zanzibar block in the near future.'
Source: Antrim Energy
back to top