Carnarvon Energy has provided an update on the Buffalo-10 well in the Timor Sea.
Progress
The 13 3/8" casing has been successfully cemented in place and the well head installed. The 12 ¼" hole was drilled down to a depth of approx. 2,707 metres Measured Depth ('MD'), and the rig is preparing operations in order to set and cement the 9 5/8" liner.
Forward Plan
Set and cement the 9 5/8" liner and drill ahead in 8 ½" hole to planned well total depth of approx. 3,500 metres MD.
The Elang reservoir is anticipated to be encountered in the 8 ½" hole section.
Wireline logs will be run over the Elang reservoir before determining if the well will be completed and suspended for potential future production.
Comments
For operational efficiency, the 9 5/8" casing will be set at around 2,700 metres MD, with the geological markers in the 12 ¼" hole section having been intersected within the pre-drill range.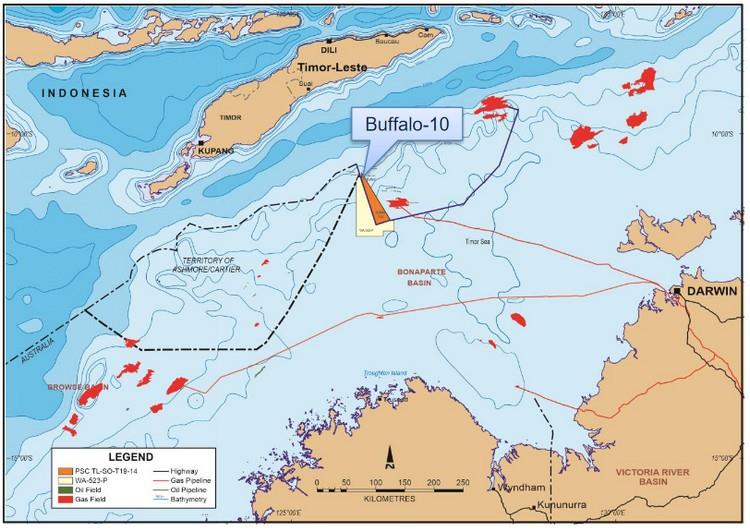 Field History
The Buffalo field was discovered in 1996 by BHP and produced from 1999 to 2004, with the last well, Buffalo-9, being drilled in 2002. In 2005 the lease on the FPSO ended, and coupled with declining production rates, increasing water cut and decreasing gas availability for gas-lift, the field was abandoned. All wells were plugged and abandoned, and the infrastructure removed.
The Buffalo field resides in Timor-Leste in the TL-SO-T 19-14 PSC in which Carnarvon holds a 50% interest.
Source: Carnarvon Energy