News listings
energy-pedia general news

Tunisia
Tunisia/Libya: Sonde Resources announces further extension of farm-out of Joint Oil Block
10 Jun 2013

Sonde Resources announced Friday that the original Farm-Out Agreement with Viking Energy North Africa has been extended by mutual agreement until July 31, 2013. An extension of the closing date for the Farm-Out Agreement was obtained to allow the parties to complete the negotiation of the documentation reflecting the amendments required by the Joint Oil Board of Directors and set forth in the Company's press release of May 6, 2013, to negotiate the form of assignment agreement and related documentation with Joint Oil to effect the terms of the Farm-Out and to fund the US$50.995 million bank guarantee (of which the Company is obligated to contribute US$10.995 million).
Recent developments relating to the proposed acquisition of a majority interest in the Zarat license (located to the south of the Joint Oil Block) have resulted in a re-evaluation by Viking and its lenders of the proposed unitization and unit plan of development for the Zarat license and Joint Oil Block, and an assessment of the potential implications thereof on the Farm-Out Agreement with Sonde. The Company is working diligently to advance the Farm-Out with Viking; however, there can be no assurance that the Farm-Out Agreement will be completed.
Joint Oil Block
The 768,000 acre Joint Oil Block lies offshore, crossing the maritime border of Tunisia and Libya. The block lies in a rich producing area, flanked by the large El Bouri, Ashtart and Miskar fields. Sonde holds 100% operated working interest and is the sole contractor to the Joint Oil Block Exploration and Production Sharing Agreement ('ESPA') signed with Joint Oil. Joint Oil is owned 50/50 by the Government of Tunisia and the Government of Libya. The Joint Oil Block contains a large portion of the Zarat discovery, which is located in Tunisian waters, and five large identified exploration prospects as well as significant additional prospectivity.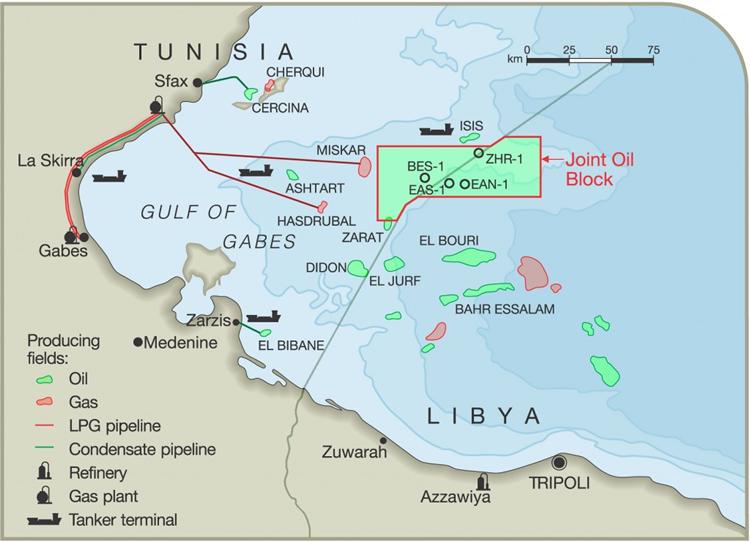 See related article: EnQuest announces entry into North Africa through a 70% operating interest in the producing Didon Oil field and the Zarat Permit in Tunisia
Source: Sonde Resources / energy-pedia
back to top