News listings
energy-pedia general news

Tunisia
Upland Resources announces corporate update - receives farm-in interest for Saouaf Licence in Tunisia
23 Apr 2019

Upland Resources has provided an update on its current activities.
Tunisia
Upland's wholly-owned subsidiary Upland (Saouaf) is the Operator of the highly prospective 4,004 km2 Saouaf Permit area, onshore Tunisia, following recent approval from the Hydrocarbon Consultative Committee (the 'HCC') of the Government of Tunisia.
The Company reports that it has received several unsolicited approaches for farm-ins to the Saouaf Licence and is progressing these with interested oil companies. Upland sees this early interest as a further validation of the potential of its new asset.
As previously announced, the Saouaf Licence is estimated by the independent Competent Person, Blackwatch Petroleum Services, to hold recoverable Pmean resources of approx. 2 TCF of gas across thirteen prospects and leads. This includes the existing Dekrila gas discovery, alone estimated to host a 227 BCF recoverable resource and the Bou Dabbous Flower structure with an estimated 813 BCF recoverable. A detailed breakdown of leads and prospects is included below. As is required under the terms of the Saouaf Licence, a US$1 million bank guarantee has been put in place. This will be released as the work commitments under the Saouaf Licence are fulfilled.
Saouaf Licence: Recoverable resource estimates for gas leads and prospects inventory (excludes SNJ oil prospect)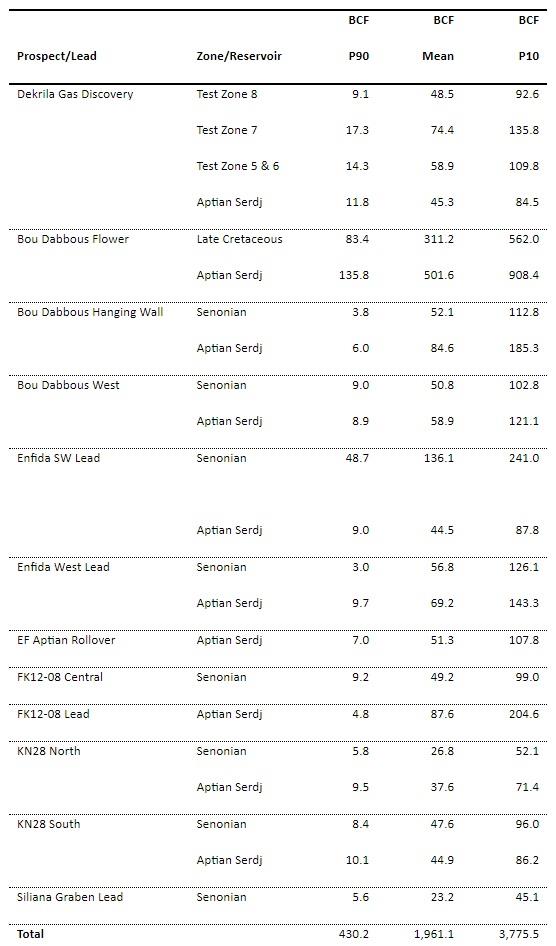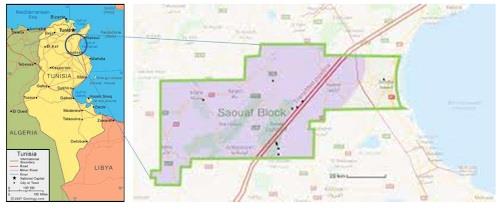 (Source: Blackwatch Petroleum Services, independent Competent Persons Report)
The area also has considerable oil potential in addition to the above. This includes the SNJ prospect with estimated Pmean recoverable resources of 42 MMbbl and where the SNJ-1 well had good oil shows and remains largely untested.
In addition, Entreprise Tunisienne d'Activités Pétrolières (ETAP), the Tunisian national oil company and our partner in the Saouaf Licence, has asked Upland to look at farming-in to specific, producing Tunisian oil fields where our expertise and access to funds will be of mutual benefit. A number of additional producing fields in Tunisia and elsewhere are also being assessed as candidates for a potential farm-in which would provide Upland with an ongoing revenue stream. These fields are mainly oil producers, at various stages of field life and most of which could provide Upland with net production rates in excess of 100 bbl/day.
Sarawak
Over the past weeks, Upland has had positive meetings with Petroliam Nasional Berhad (Petronas), Petroleum Sarawak Berhad and our partner, Brooke Dockyard and Engineering Works Corporation. These have progressed matters further on a number of fronts in Sarawak and more broadly in Malaysia where additional opportunities have been identified.
UK
Upland's wholly-owned subsidiary, Upland Resources (UK Onshore), lodged a bid in the UK 31st Offshore Licensing Round, which closed on 7 November 2018. This was with partners for a tranche of highly prospective acreage in the North Sea and which comes with a low work commitment. The results of this application are expected in this quarter. The Company will update the market as results become available. Upland Onshore would hold a 40% stake, 'ground-floor' interest in any licence awarded.
Steve Staley, CEO of Upland Resources Limited, said:
'Our shareholders will know that we have not been vociferous in the media over the past weeks - but we have been busy making good progress on all fronts and I am pleased to be able to provide this update now. We are encouraged by industry recognition of the potential of the Saouaf Licence and that ETAP are happy to help us find mutually beneficial investments. Good progress continues to be made in Sarawak and we have used the knowledge we have gained in our work on the UK's Inner Moray Firth to guide us to what we believe is attractive North Sea acreage.'
For further technical information re the Saouaf Licence, see: Second Supplementary Prospectus Award of Saouaf Prospecting Licence, Tunisia
Source: Upland Resources
back to top