Upland Resources has announced that a Heads of Terms ('HoT') agreement has been signed between the Company and Pennpetro Energy for a proposed farm-in into its Saouaf permit area, Tunisia.
Pennpetro Energy enters these HoT with Upland through its wholly owned subsidiary enterprise, Nobel Petroleum USA ('NPUSA').
Upland's subsidiary holds a 50% interest in the Saouaf Prospecting Permit in the Saouaf area of Tunisia in a Joint Venture with the Tunisian state oil company, ETAP.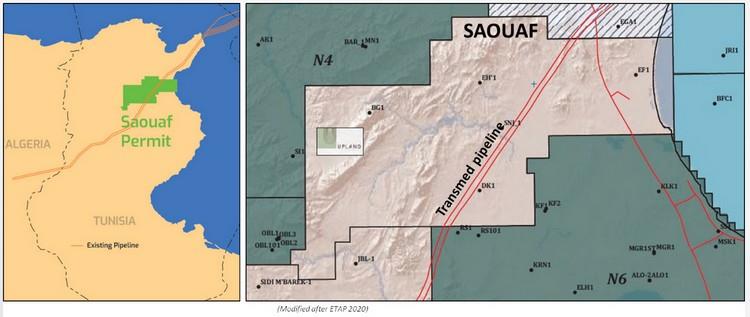 Pennpetro Energy wishes to enter into a standard petroleum Farm-In agreement with Upland's subsidiary in respect of the Saouaf Asset. Pennpetro Energy and NPUSA understand that the current residual work programme needs to be carried out prior to the current expiry of the Saouaf Permit on 23 December 2022 including an obligation to complete the acquisition of three hundred (300) line kilometers of 2D seismic, which Pennpetro has agreed to meet under the Farm-in. Pennpetro and Upland intend to work together to put in place an extension to the period to complete this work programme.
Following completion of the current work programme, the holder of the Prospecting Permit has a priority right to convert this permit into an Exploration Permit, which will require:
the acquisition of 150 km of 2D seismic lines; and
the drilling of one exploration well to reach the M'cherga formation or equivalent to a minimum depth of 1500m
These costs will be shared between Upland and Pennpetro on an 20%-80% basis.
As a condition of the Farm-in, Pennpetro's subsidiary, NPUSA, will be the Operator for the Permit and will become a party to the joint venture arrangements that Upland's subsidiary, Upland Saouaf, already has with ETAP. The overall interests upon completion of the Permit will be as follows:
Nobel Petroleum USA, Inc. 40%; ETAP 50%; Upland Saouf 10%.
Pennpetro Energy has also agreed to reimburse Upland for the 80% of its prior sunk costs in Tunisia, which are agreed to be capped at £290,000. This will be paid to Upland through fully paid ordinary shares in Pennpetro Energy ranking pari passu with other ordinary shares in Pennpetro Energy at deemed value of £0.35 each for a total of 662,857 fully paid ordinary Pennpetro Energy shares.
The HoT agreement between NPUSA and Upland also includes granting Pennpetro Energy a first right of refusal in respect of Upland UK (Upland's wholly owned subsidiary) assets upon the signing of the Farm-in for a period of 45 days. Assets that Upland UK hold (but are not an operator of) are:
· A 32% interest in P2478 (Blocks 12/27c, 17/5, 18/1 and 18/2) ('Inner Moray Firth Asset'): and
· A 25% interest in PEDL 299 SK46c below ('Hardstoft Asset')
Pennpetro Energy intends to proceed with completing the matters set out in the HoT agreement as quickly as possible.
All of these transactions are subject to the agreement and signing of various legally binding agreements and further necessary announcements will be made, in due course.
Bolhassan Di, Chief Executive of Upland, commented:
'The Saouaf Permit although in its early stages, is an exciting prospect, and has a number of leads. This Heads of Agreement with Pennpetro (through its subsidiary Nobel Petroleum USA) means that if the Farm out goes through Pennpetro will carry Upland for the remainder of this phase of work and will meet 80% of the costs if the Prospecting Permit is converted into an Exploration Permit.
Through this proposed deal, Upland also not only mitigates its work commitment costs on the Permit but retains exposure to upside in Saouaf through a residual stake in Saouaf. We look forward to working further with Pennpetro and to updating shareholders further on this exciting new chapter for Upland Resources.'
Source: Upland Resources