AIM-listed UK Oil & Gas (UKOG) announced March 23 that construction of the Basur-3 appraisal well's drilling pad and access road has now commenced. Construction works, located within the Company's 50% owned 305 sq km Resan licence, are scheduled to last approx. 60 days.
The Basur-3 location lies approx. 1.2 km north and geologically updip from the 1964 Basur-1 oil discovery well, which as detailed in the Company's 14 October 2020 and 15 January 2021 releases, produced 500 barrels ('bbl') of oil from a short 6-hour swab test, equivalent to an extrapolated daily rate of 2,000 bbl of oil per day.
Basur-3, the first modern appraisal well designed to confirm the extent and commerciality of the discovered Basur-Resan Mardin oil pool, will test the north western structural culmination of the 45 sq km Basur-Resan geological structure.
As per the Company's 15 January 2021 release, Basur-Resan's Mardin oil pool is estimated to contain aggregate gross mean and high case discovered recoverable resources of 37.2 million barrels ('mmbbl') and 67 mmbbl respectively. UKOG's corresponding 50% net share being 18.6 mmbbl (mean case) and 33.6 mmbbl (high case).
The board continues to view the forthcoming Basur-3 and subsequent Resan-6 appraisal drilling programme to present a compelling and potentially transformational growth opportunity for the Company.
A Basur-3 presentation, including site photographs, is available on the Company's website.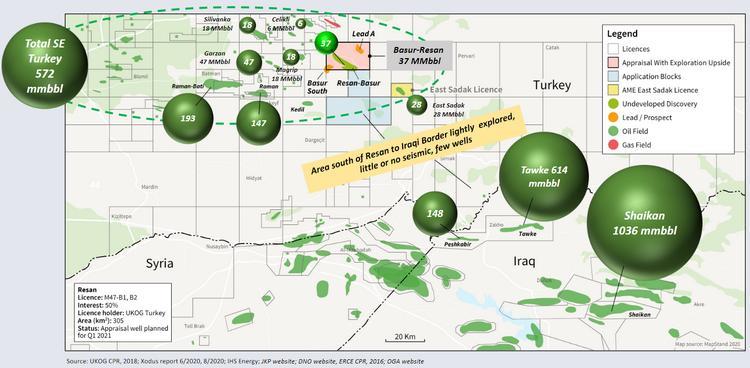 Stephen Sanderson UKOG's Chief Executive commented:
'The breaking of ground at the new Basur-3 drilling site makes this material appraisal project very real and tangible. The speed of entry into the operational phase, barely two months after government ratification of our entry into Turkey and despite pandemic constraints, nicely demonstrates the ability to move projects forwards at pace in Turkey, a welcome change from the UK. We salute our highly experienced partner Aladdin Middle East's efforts in this respect and look forward to drilling and testing once the site is completed.'
Source: UKOG
© Energy 365 Limited. All Rights Reserved.
All articles on this website are protected by the Copyright, Designs and Patents Act 1988.
Whilst news, facts and information are not subject to copyright, the creation of a story from those facts is. Whilst third parties can legally quote our work under 'fair dealing' it is illegal to lift articles in their entirety. We will immediately seek royalty payments from third parties who copy our work.