News listings
energy-pedia exploration

Turkmenistan
Turkmenistan: RWE to spend up to $80 million on Block 23 offshore Turkmenistan
21 Apr 2010

Germany's RWE will spend $60-80 million in the next four years on the exploration of a Turkmen offshore gas block, the head of RWE's Turkmen branch said. RWE signed a deal to develop Block 23 on Turkmenistan's Caspian shelf last year. The move was important for the former Soviet republic which wants to diversify gas sales beyond Russia, China and Iran as RWE is a shareholder of Nabucco, the planned gas pipeline bypassing Russia and serving the European market.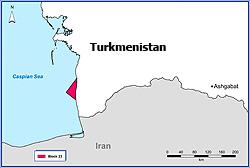 'In the first four years of the initial exploration period RWE Dea will perform an environmental study followed by a 3D seismic campaign,' Heiko Oppermann, General Manager of RWE Dea AG Turkmenistan Branch, said in an interview. 'After processing and interpretation of the seismic data we will drill one obligatory exploration well. The amount of money to be spent within this first phase is estimated at around $60-80 million.'
RWE is one of just a handful of foreign companies working on the Turkmen Caspian shelf. Analysts say fields there are more risky and less lucrative than onshore deposits eyed by Western energy majors. But Turkmenistan says it will not give away onshore fields and will only hire foreign firms as contractors in their development.
Earlier this month RWE Dea officially opened its new branch in Turkmenistan, trading as RWE Dea AG, Turkmenistan Branch. Last year, the German upstream company was granted the exploration rights for Licence Block 23, located in the Turkmenian part of the Caspian Sea and established a local branch. 'Turkmenistan will play a major role in the energy supply for Europe,' said Ralf to Baben, member of the Board of Management of RWE Dea, during the official inauguration. 'We are planning to expand our activities in this country further, and we are looking forward to our continuing close collaboration.'
RWE Dea was granted the exploration rights for the Licence Block 23 under a Production Sharing Agreement. The Licence Block 23 is located in the southeast of the Caspian Sea and covers about 940 sq kms.RWE Dea is currently preparing a comprehensive environmental study. The purpose of the study is to provide a record of the natural environment in its current state and describe environmental protection measures that are to be kept in place during all stages of the work programme.The current process of evaluating existing seismic data will be followed by a 3D seismic survey covering an area of about 400 sq kms, prior to the drilling of an exploration well.
In exploring Block 23, RWE Dea will be able to draw on extensive expertise and experience regarding the requirements for working in the shallow waters of ecologically sensitive areas.In the Wattenmeer tidelands in the German federal state of Schleswig-Holstein, a nature reserve of international significance, the company has been operating the Mittelplate Drilling and Production Island incident-free for more than 22 years now.
Source: energy-pedia
back to top