News listings
energy-pedia development and production

Turkmenistan
Turkmenistan, Uzbekistan, Kazakhstan and China launch gas pipeline
16 Dec 2009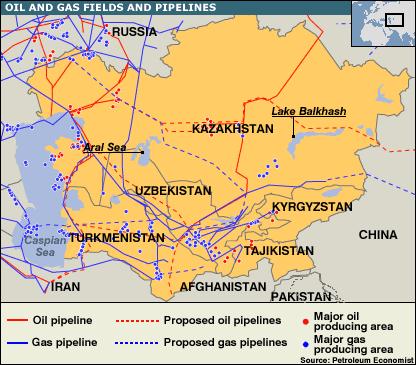 China's President Hu Jintao has opened a pipeline linking a gas field in Turkmenistan with his country's Xinjiang region, extending Beijing's reach into Central Asia's natural resources. The presidents of Kazakhstan, Uzbekistan and Turkmenistan joined the Chinese leader at a remote spot near the Turkmen-Uzbek border to commission the pipeline that goes through their countries.
The pipeline is about 7,000 kms long, with 188 kms laid in Turkmenistan, 525 kms in Uzbekistan, 1,293 kms in Kazakhstan, and 4,860 kms in China. With the opening of the pipeline, Russia's long-standing dominance and near monopoly over Central Asian natural gas exports officially came to an end. It is the first time in more than a decade that a pipeline has been constructed to pump gas out of the region, and the biggest-ever effort to export Central Asian gas without using Russian routes.
The ceremony in Samandepe, the starting point of the pipeline that originates in Turkmenistan's gas-rich but previously untapped east, took place just over three years after the China-funded project was agreed upon. Turkmen President Gurbanguly Berdymukhammedov called the launch of the new pipeline 'a new chronicle in the relations of our countries' that 'will stand as a golden page' in their history.
Jennifer DeLay, editor of 'FSU Oil And Gas Monitor', a weekly publication from the Scotland-based Newsbase Group, says the significance of the new route rests primarily in the fact that it is the first high-volume export route opening up for Turkmenistan that does not go through Russia. DeLay notes that a gas pipeline connecting Turkmenistan to northern Iran was constructed in 1997. But she says its rather modest annual capacity of 8 billion cubic meters (bcm) of gas pales in comparison to the new route to China.
'That's still pretty small compared to the one Turkmenistan have to Russia, which is handling upward of 50, 60, 70 bcm per year,' DeLay says. 'The new pipeline to China is going to be handling 30 to 40 billion cubic meters a year, and that's quite a bit bigger than 8 (billion bcm).'
According to plan, the Turkmenistan-China pipeline's full capacity of 40 bcm should be achieved by 2012, but Turkmenistan and China have already signed preliminary agreements to add another 10 bcm eventually.
Russian energy giant Gazprom is contracted to purchase between 50 to 65 bcm annually from Turkmenistan, accounting for about 90 per cent of the Central Asian country's gas exports. But since an explosion along the pipeline connecting Turkmenistan to Russia in April, no gas has been flowing, stoking tensions between the two countries and leading Turkmenistan to speed up efforts to find alternative export avenues. The two sides are close to agreement on renewing supplies, but when the flow of gas does resume Gazprom's share of Turkmen gas will have fallen to just over 50 per cent as a result of the new China route and others expected to go on line soon.
A new pipeline to Iran, due to be launched later this month, will eventually send another 8 bcm - with plans to add 4 bcm more to Iran, bringing the total slated for the Turkmenistan's southern neighbour to 20 bcm.
The Turkmenistan-China pipeline is also due to take some gas from Uzbekistan and Kazakhstan to China. Uzbekistan has already said it is contracted to provide 10 bcm to the project. A second section of the pipeline that will extend through Kazakhstan from north of the Aral Sea to China - the Beyneu-Bozoy-Kzylorda-Shymkent pipeline will provide 10 bcm of Kazakh gas.
During a visit to Kazakhstan on December 12 en route to Turkmenistan, Chinese President Hu attended the opening of the Kazakh-China spur of the pipeline and held discussions with Kazakh President Nazarbayev.
DeLay explains that China has a keen interest in diversifying its energy sources. 'China is looking, at this point, to gasify as much of its economy as possible,' she says. 'To date it's dependent mostly on coal, which is of course a much dirtier burning fuel, and they're looking to switch over to gas. At present, gas still accounts for a fairly low share of total energy consumption, and I believe it may still be less than 10 per cent. So at the moment they're looking for gas from pretty much any source they can get it, and if they can get through a secure overland pipeline, so much the better.' DeLay says the new Turkmenistan-China route fits the bill.
'One of the big attractions of the pipeline from Central Asia is that it's an overland route. A good amount of the gas that China has started buying lately has come from overseas in the form of LNG (liquefied natural gas), which has to be brought in by tankers,' DeLay says. 'Sea transport has its own pitfalls; a lot of it has to go through the Straits of Malacca, which is infested with pirates, and there's some other security concerns. The pipeline from Turkmenistan, by contrast, is going overland and is a little bit easier to predict and protect.'
The opening of the new pipeline could also have a ripple effect, as Central Asia's gas-exporting states consider offers to join projects leading west to Europe. The European Union-backed Nabucco gas pipeline aims to carry 31 bcm annually and would be nearly twice as long as the Turkmenistan-China pipeline. So far, however, Central Asian leaders have been hesitant to sign contracts to fill the Nabucco pipeline. That may be about to change.
One of Nabucco's shareholders, Germany's RWE, in July was awarded the rights to explore Turkmenistan's offshore gas fields in the Caspian Sea. In October, the company opened a representative office in the Turkmen capital, Ashgabat. Observers see RWE's activities as the first steps in securing Turkmen gas for Nabucco. And for Nabucco shareholders and supporters, the example of the new Turkmenistan-China pipe going online demonstrates with certainty that it is possible to build a high-volume pipeline that avoids Russia.

Source: Asia Pulse
back to top