News listings
energy-pedia general news

United Kingdom
UK: Dart Energy announces independent reserve certification for PEDL 133 in Scotland
22 Jun 2011

Australian CBM company Dart Energy has announced an initial independent reserve certification for PEDL 133 in Scotland. The reserve certification, undertaken by Netherland Sewell & Associates (NSAI) estimated 2P reserves of 43 BCF and 3P reserves of 81 BCF (net to Dart). Dart understands that this to be among the first, and most sizable, CBM reserves certifications in Europe to date.

During the review, NSAI also evaluated the recently acquired USCB and Milejow licences in Poland and updated the estimates of the shale potential in PEDL 133. NSAI's assessment was in accordance with the Society of Petroleum Engineers' Petroleum Resources Management System.

The reserves and resources best case estimates are summarised below: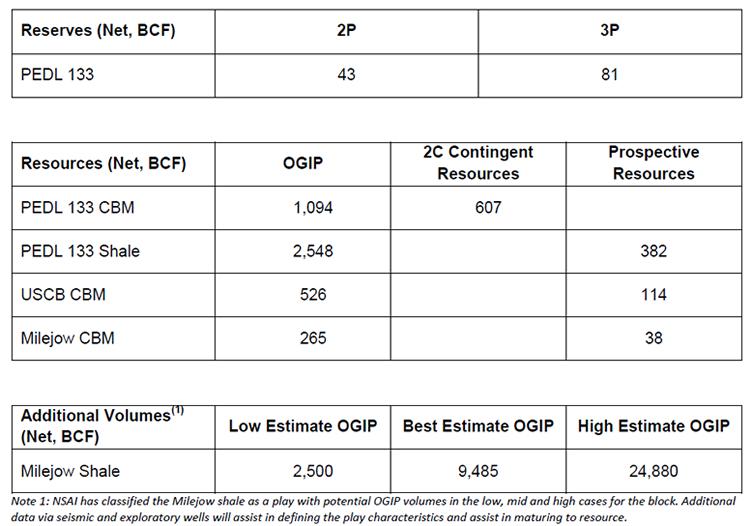 Dart Chief Executive Officer, Simon Potter, said:
'Today's reserve and resources certification in relation to PEDL 133 and our Polish licences is a first step in an ongoing resource maturation program over the next 12-18 months. The initial 2P and 3P reserve certification at PEDL 133 has been achieved through a dedicated field development planning process where we have applied Dart's expertise to build on and accelerate the PEDL 133 project. This process will now enable us to move swiftly to achieve early commercialisation, benefitting from easy access to market and Europe's high gas prices.

We are especially pleased with today's certification as we understand it is amongst the first, and certainly the most sizeable, CBM reserve certifications in Europe to-date, demonstrating Dart's capacity to lead the industry in those markets in which we operate.

Over the coming six months we will continue the maturation of the large contingent resource position in the PEDL 133 area and refine our plans to further optimise field development metrics over this growing reserve base.
We have now also established that PEDL 133 in Scotland and the Milejow block in Poland are assets with substantial shale gas potential. We will be working to further assess that potential and define a strategy that best achieves value for these assets.'
About PEDL 133
PEDL 133 is located near Airth, Scotland, and is the furthest appraised of Dart's licenses in Europe, with over £20 million previously invested in drilling activities on the licence. This included 14 CBM exploration, appraisal and development wells drilled, a variety of vertical and horizontal drilling techniques used, and expenditure on infrastructure including pumping, venting, flaring, water treatment and outfall.
In 2008, the Airth 10 pilot well in PEDL133 was pilot tested for six months and demonstrated continuous gas production of >200,000scf/day from approximately 1000m of connected coal despite difficult operational conditions related to well completion design. Dart has designed the next pilot well, Airth 12, to access up to 4000m of connected coal and includes a dedicated vertical production well that will significantly multiply well production potential.
Since acquiring a 10% shareholding in Composite in September 2010 and the subsequent acquisition of 100% of Composite in February 2011, Dart has focussed considerable effort on evaluating the CBM potential of PEDL 133. This has included a detailed technical review of all available data, planning a pilot project for PEDL 133 in 2011 that will enable early gas commercialisation and conducting geological and engineering studies required to move to full field development as early as 2012.
NSAI Assessment Details

In its assessment of PEDL 133, NSAI considered the geological and production data, Dart's plans and capability for field development and the sales gas markets, and concluded that the 2P and 3P reserves, as certified, would be economically recoverable based on this information.

Key aspects of the development plan considered by NSAI are as follows: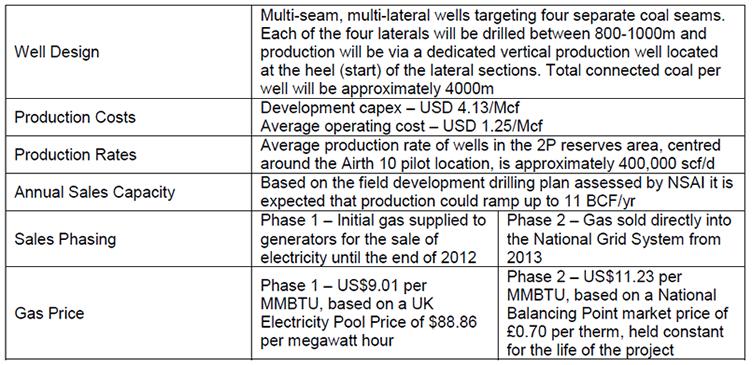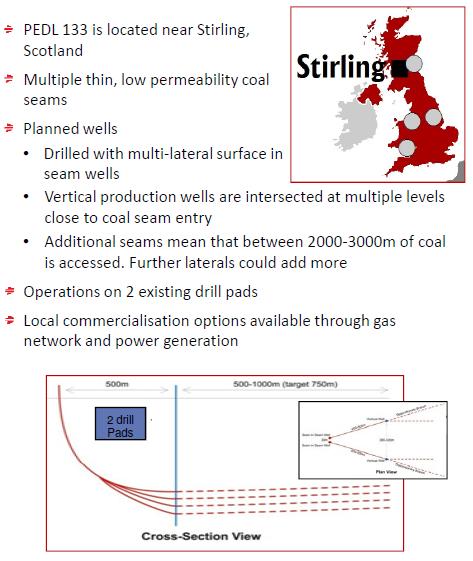 The information presented in the table above formed the basis of NSAI's economically positive evaluation. Through application of Dart's global knowledge and skills base, derived from experience in multiple international locations, Dart expects that over time there will be further optimisations to the present field development plans. A particular focus will be to leverage Dart's horizontal drilling and project execution expertise to enhance expected well performance rates and deliver more competitive unit costs of development than those inherent in current planning assumptions.

In addition to the project described above, Dart plans to continue the maturation of the large contingent resource position in PEDL 133. Co-located in the PEDL 133 reserves project area (in under and overlying seams) are substantial (164 BCF) contingent resources that are likely to be co-developed with the 2P and 3P reserves volumes. Over the whole of the PEDL133 block there is a total of 607 BCF of 2C recoverable resource, much of which can potentially be matured to reserves.
Source: Dart Energy
back to top