News listings
energy-pedia general news

United Kingdom
UK: Europa Oil & Gas announces sale of interest in Weald Basin licence PEDL143 to UKOG
16 Apr 2019

Europa Oil & Gas has conditionally agreed to sell its 20% interest in UK onshore licence PEDL143 to UK Oil & Gas ('UKOG') for a total consideration of £300,000. The Sale is in line with Europa's strategy to focus on its high impact portfolio of exploration licences in Atlantic Ireland, its existing producing assets onshore UK, and the Company's pursuit of new ventures in its chosen areas of interest, specifically the Atlantic seaboard, North Africa and NW Europe.
The Sale is subject to the signing of a Sale and Purchase Agreement, the terms of which have been agreed by both parties, and also approval by the Oil and Gas Authority. The Sale is to be settled in cash which, under the terms of the proposed SPA, Europa will then immediately, simultaneously and irrevocably use to apply for such number of ordinary shares in UKOG that is equal to £300,000 divided by 1.1560 pence per share, being the five day volume weighted average price on 12 April 2019. The Consideration Shares issued to Europa will be subject to a six month orderly markets provision. A further announcement will be made on completion.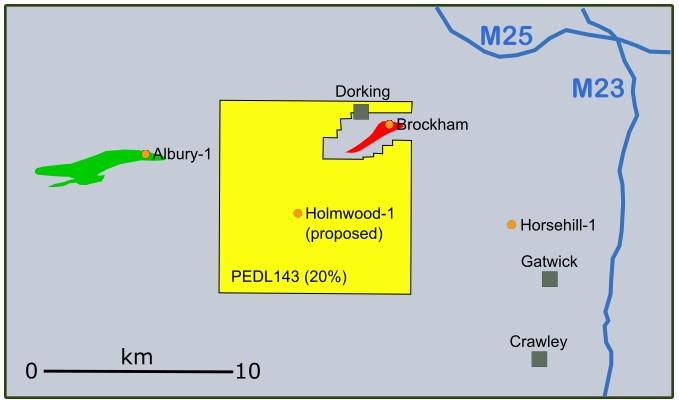 Europa CEO Hugh Mackay said:
'The sale of our remaining interest in PEDL143 demonstrates how we actively manage our portfolio of licences on a risk / reward basis. We will deploy corporate resources and capital elsewhere in our portfolio, mainly in monetising our industry-leading licence position offshore Ireland. Here gross prospective resources of up to 6.4 billion barrels of oil and 1.5 tcf of gas at our flagship Inishkea project have been identified, while farm-in negotiations are ongoing with a major international oil and gas company with a view to drilling up to three high impact wells from 2020 onwards.
'We continue to look to maximise production from our UK onshore assets including our three producing fields and the Wressle discovery in the East Midlands. Finally, we are closing in on adding a new exploration project to our portfolio, a high impact, new venture in Morocco which, in terms of size and company-making potential, is on a similar scale to our Irish licences. With so much activity underway across our portfolio, I look forward to providing further updates on our progress.'
PEDL 143
South of Dorking in Surrey, PEDL143 contains the Holmwood conventional oil prospect. Holmwood is predicted to have conventional Jurassic sandstone and limestone reservoirs which are proven to be productive at the nearby Brockham oil field and at the Horse Hill oil discovery. The Holmwood prospect has been assigned gross mean prospective resources of 5.6 million boe with a range of 1 to 11 million barrels. Were it to come in at 5.6 million boe, Holmwood would become the fifth largest onshore oil field in the UK.
Note: UKOG announced today that it has entered into a binding heads of terms with both Europa Oil and Gas and Union Jack Oil to acquire their respective 20% and 7.5% interests in the highly prospective PEDL143 exploration licence. Upon completion, the Company will hold a majority operated 67.5% interest in the Licence. See: Acquisition of Further Interest in PEDL143 Exploration Licence
Source: Europa Oil & Gas
back to top