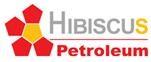 On 17 October 2018, Hibiscus Petroleum announced that its indirect wholly-owned subsidiary, Anasuria Hibiscus UK, had completed the transaction to acquire a 50% interest in the UKCS Production Licence No. P.198 Block 15/13a and Block 15/13b from Caldera Petroleum (UK) for a purchase consideration of USD37.5 million. The Blocks are located offshore, in 140 meters water depth, in the UK sector of the North Sea, approx. 250km northeast of Aberdeen.
On 7 October 2019, the Group announced that Anasuria Hibiscus UK had signed a conditional Sale and Purchase Agreement ('SPA') to acquire 100% interest in Blocks 15/18d and 15/19b (Licence No. P2366).
The Group has defined the Marigold Cluster to currently include the following licenses (and fields):
P198 -Block 15/13a (Marigold Discovery);
P198 -Block 15/13b (Sunflower Discovery); and
P2366 -Blocks 15/18d and 15/19b (Crown Discovery).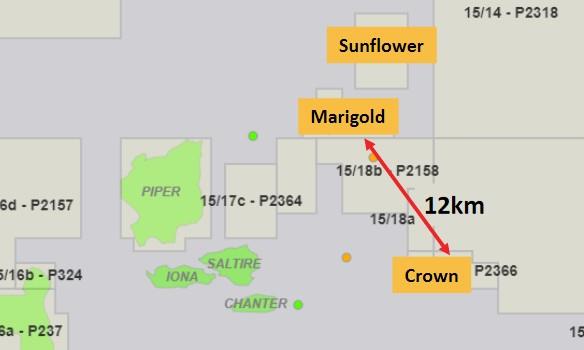 Block 15/13a contains a significant oil-bearing discovered field ('Marigold'), whilst Block 15/13b which lies northeast of Block 15/13a contains a smaller discovered field ('Sunflower'). Based on an independent report by AGR TRACS International (which was conducted as part of the due diligence exercise to acquire the Blocks in October 2018), 2C Resources in the Blocks is estimated to be 60.0 million bbls of oil (30.0 million bbls of oil net to Anasuria Hibiscus UK).
Hibiscus was appointed Exploration Operator of Licence P198, Blocks15/13a and 15/13b effective 12 February 2019 and ahead of the 31 March 2019 target date set by the UK Oil and Gas Authority ('OGA'). A dedicated project team, located in Kuala Lumpur with a modest presence in Aberdeen, Scotland, has been established. The project team has been tasked to conduct the subsurface field development engineering studies and, with the support of third-party contractors, execute the concept select phase as part of the effort to establish a field development plan for Marigold and Sunflower by the end of calendar year 2020. Development options that have been considered include a fixed platform, a floating solution, as well as a tieback to existing, nearby infrastructure solutions.
Thirty-four development scenarios were studied to determine the optimum solution for development of the Marigold and Sunflower resources and select the concept that provided the best balance of cost, value and risk. The selected concept is to drill and complete subsea wells that are tied back to a Floating Production Storage and Offloading unit ('FPSO') via flexible flowlines and umbilicals. This concept provided the highest project value with the lowest execution and commercial risk. It will also facilitate a phased development approach to further mitigate project risks. The project is expected to proceed in two phases to mitigate subsurface uncertainties and minimise capital outlay required to achieve first oil production.
It is anticipated that in phase 1 of the development, three Marigold wells will be drilled, completed and tied back to the FPSO via a production manifold. Additional wells in Marigold,along with wells in the Sunflower discovered field and the recently acquired Crown discovered field (pending acquisition completion),could be developed in a second project phase. It is envisaged that wells in these fields will also be tied back to the FPSO.
On 7 October 2019, the Group announced that Anasuria Hibiscus UK had signed a conditional SPA to acquire 100% interest in Blocks 15/18d and 15/19b (Licence No. P2366) from United Oil and Gas and Swift Exploration for a total cash consideration of up to USD5.0 million, to be paid based on a combination of a series of milestones and an overriding royalty scheme.
Licence No. P2366 is located offshore in the UK sector of the North Sea, approx. 250km northeast of Aberdeen and 12km southeast of the Marigold field, and includes the Crown discovered field which consists of 2C Resources of between 4 to 8 million bbls of oil, subject to an independent third-party expert's assessment.
The rationale for this transaction is to secure the opportunity to aggregate 2C Resources (from the Crown discovery) at a competitive unit cost per barrel and integrate these contingent resources as part of the Marigold area-wide development with the objective of reducing overall unit development and production costs.
The Proposed Acquisition is subject to the receipt of regulatory approvals for the assignment of the licence to Anasuria Hibiscus UK and the appointment of Anasuria Hibiscus UK as operator. If the conditions have not been fulfilled or waived by the parties by 31 December 2019 (or such later date no later than 31 March 2020 as the parties may mutually agree), the Proposed Acquisition willbe terminated according to the terms of the SPA.In terms of capital expenditure, approx. RM2.4 million has been incurred in the Current Quarter on progressing activities on the Marigold Cluster.
A concept select report for the development of Marigold and Sunflower fields was submitted to the Oil and Gas Authority ('OGA') on 31 August 2019. A letter of no objection to the selected concept was issued by the OGA on 15 October 2019
Source: Hibiscus Petroleum