Independent Oil and Gas has confirmed that the funding of its 100% owned and operated Harvey appraisal well has now closed, with terms as announced on 17 August 2018. The Company has also provided an update on the results of the Pre-Stack Depth Migration ('PSDM') seismic reinterpretation work as well as preparations for spudding the well.

Highlights
£15 million non-convertible loan facility (the "Harvey Facility") now closed with London Oil and Gas Limited ("LOG"), on terms as previously announced:

Proceeds to fund Harvey appraisal well and other corporate and project costs, including full repayment of final remaining Skipper liabilities.
Five-year maturity and interest rate of LIBOR+9% per annum;
20,000,000 warrants issued, exercisable at 32.18p, a 10% premium to the closing price of IOG shares on 16 August 2018.

The Harvey appraisal well aims to prove gas across the entire structure and is expected to spud in January 2019. New PSDM seismic reinterpretation work has yielded the following management estimates:

Geological Chance of Success: 63% (November 2017 CPR: 50%)
Low/Mid/High resources: 85/129/199 BCF (CPR: 44/114/286 BCF)
Unrisked mid-case NPV(10): £232 million (CPR: £159 million)

This analysis has also informed the optimal location for the appraisal well. Further ongoing PSDM work is focused on the Redwell discovery and Woodforde and Norada prospects, all of which lie in the Harvey licence area.
IOG has contracted Fraser Well Management to manage and operate the Harvey appraisal well. Both the rig and offshore service provider have been provisionally agreed and expected to be confirmed shortly.
IOG's nearby 100%-owned Thames pipeline would be the main gas export route for the Harvey development.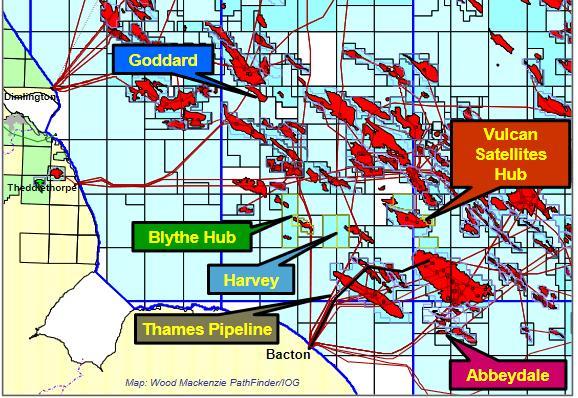 Andrew Hockey, CEO of IOG commented:
'A successful Harvey appraisal well would be a game changer for IOG, providing a major increase to our existing 303 BCF 2P proven gas reserves in the Southern North Sea. Our new seismic reinterpretation work has given us more definition of the structure and more confidence in the resource range, well location, and most importantly the geological chance of success, which is now up to 63%.

Crucially, we now estimate even the low case to be 85 BCF, which would make a very attractive development at nearly double the November 2017 CPR's 44 BCF low case. Our 129 BCF mid-case management estimate is also an improvement on the CPR's 114 BCF mid-case and, if successfully appraised, we see potential for a streamlined development, benefitting from very strong synergies with our other assets. This results in a £232m NPV, nearly 50% more than the CPR number, transforming the company's overall economics.
Closing the Harvey Facility is an important step forward, confirming an exciting near-term value catalyst for investors within the wider context of our high-value development project. We are also very pleased to have engaged Fraser Well Management to operate this well, given their wealth of relevant experience in this basin. Further updates will be provided as we confirm other contractors and the spud date in due course.'
Harvey Appraisal Well

The main Harvey licence, P2085, was awarded to IOG at 100% Working Interest in December 2013 in the 27th Licensing Round and contains the majority of the Harvey gas discovery. In May 2018, IOG announced that its application for the licence to the east of Harvey in Block 48/24a in the 30th Offshore Licensing Round was successful. This is Licence P2441. This licence award secures 100% of the Harvey structure. The November 2017 Harvey CPR estimates Low/Mid/High resources of 45/114/286 BCF with a 50% Geological Chance of Success.

Following the successful conclusion of the Harvey 3D seismic reprocessing project carried out by Schlumberger Western Geco, which commenced in March 2018, IOG has now completed the interpretation and mapping of this new data set which has been reprocessed to deliver a PSDM 3D seismic volume. This work has led to the optimisation of the appraisal well location, which therefore further de-risks this appraisal project.

The well will fulfil a 27th Round Licence commitment and will target the confirmation of IOG's view that the Harvey structure already has proven gas from well 48/23-2 drilled by Arco in 1984. The new mapping shows that this discovery well intersects the flank of the Harvey structure in each of the low case, mid case and high case maps, thereby adding further confidence to this appraisal project.

IOG is targeting spudding the Harvey appraisal well in January 2019 with the objective of testing and proving up the upside gas resource estimates.

The necessary safety and environmental site surveys are due to be carried out in early October.

IOG has appointed Fraser Well Management to manage and operate this well. Their appointment to be the Well Operator on Harvey is subject to regulatory approvals and is expected in the coming weeks. The selection of the drilling rig contractor and well services contracts will be finalised shortly thereafter.
Source: Independent Oil & Gas