News listings
energy-pedia exploration

United Kingdom
UK Oil & Gas Investments announces upgrade on Horse Hill-1 oil discovery volumes
17 Dec 2014

Upgrade on Portland Discovered Oil in Place Volumes and Conventional Upper Jurassic Limestone Oil Play, Weald Basin UK
JV partner UK Oil & Gas Investments (UKOG) announced Wednesday that, as a result of the analysis and integration of subsurface data from the Horse Hill-1 ('HH-1') discovery well, in which it holds a net attributable interest of 14.56%, the calculated estimates of the discovered most likely gross oil initially in place ('OIIP') within the overall Upper Portland sandstone conventional reservoir in the HH-1 and Collendean Farm-1 ('CF-1') structure have increased by over 250% from the 3.1 million barrels (mmbbls) reported on 24 October 2014, to a current most likely OIIP of 8.2 mmbbls. Similarly, calculated estimates of low case (P90) discovered OIIP has increased by nearly 400% to 5.7 mmbbls and high case (P10) OIIP volumes show a 250% increase to 12.1 mmbbls.
In addition, the results of electric log analysis in the HH-1, CF-1 and other regional wells to the south of PEDL 137, combined with ongoing geochemical analysis of HH-1 samples, indicate that the key elements of a conventional Upper Jurassic Limestone oil play have been demonstrated to extend into the southern part of the Licence. The HH-1 well demonstrates the presence of limestone porosity adjacent to, both overlying and underlying, thermally mature super-saturated world-class oil source rocks within a 1,496-foot gross interval of the Upper Jurassic Kimmeridgian Clay ('KC') Formation between 2,224 feet and 3,720 feet TVDss. Samples from the KC show total organic carbon ('TOC') of up to 9.4%, generative potentials of between 45-103 kg of hydrocarbons per tonne and with measured vitrinite reflectance ('Ro') exceeding 0.81% at the base of the formation.
Further conventional oil potential within the Middle Jurassic Kellaways Beds sandstones in HH-1 is currently under investigation. Work is underway to obtain the necessary permissions to conduct a production flow test from the HH-1 Upper Portland conventional oil pool in 2015.
The full results of the HH-1 well are complex by their nature. The operator's post-well evaluation has therefore taken longer than expected and is still continuing.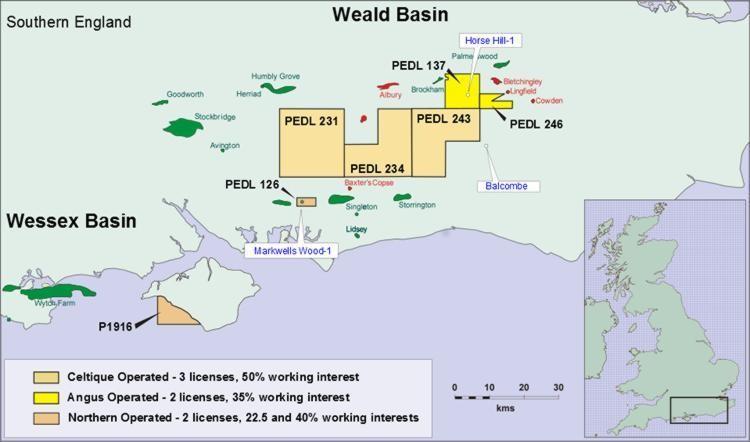 Click here for full announcement
Source: UKOG
back to top