News listings
energy-pedia general news

United Kingdom
UK: Cronx licence extension builds IOG's SNS Gas Hub
18 Dec 2014

AIM-listed Independent Oil and Gas (IOG), the North Sea focused Oil and Gas Company, has provided an update on progress with the Company's Southern North Sea Gas Hub, which includes the Blythe, Cronx and Elgood Gas discoveries, containing 2P reserves of 3.0 MMBoe and 2C resources of 8.7 MMBoe net to IOG.
Cronx
IOG has announced that the Department of Energy and Climate Change ('DECC') has extended the Cronx licence by a full 12 months to 31 December 2015. The Sale and Purchase Agreement has also been amended to allow completion of the acquisition by 30 June 2015.
It remains IOG's intention to complete the acquisition and to meet the licence commitments by drilling a well as soon as possible thereafter. These plans remain subject to financing, however as previously announced, IOG has signed an MOU with AGR Well Management to deliver the Cronx well. The term sheet agreed with BP Gas Marketing for a secured bridging loan to part fund the commitment well will expire on 31 December 2014 but the Company is currently in discussions to extend this date or pursue alternative financing options.
The base case recovery estimate for Cronx is 17.2 BCF, based on the Competent Person's Report (CPR) by ERC Equipoise.
P2260 - Elgood
IOG was recently awarded licence P2260 which includes the Elgood discovery adjacent to and between the Cronx and Blythe licences. Subject to the receipt of appropriate quotes, IOG anticipates carrying out some seismic reprocessing work that should confirm if both the Elgood and Cronx discoveries could be developed via a single horizontal well and also potentially determine whether other discoveries within our core SNS licence area that have currently been mapped as small, could in fact be commercially developed as part of the hub strategy. The base case recovery estimate for Elgood is 15 BCF, based on IOG internal estimates.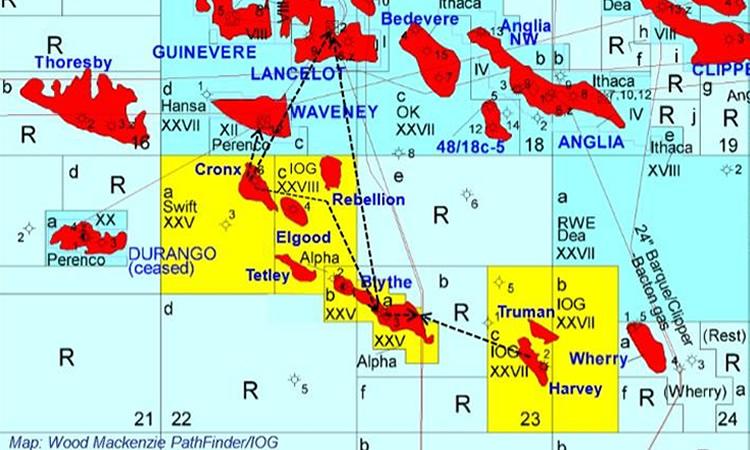 Mark Routh, CEO and Interim Executive Chairman of IOG said:
'The current environment provides great opportunities for IOG. This is the right time to increase the size of the commercial resources in our Southern North Sea Hub centered on the Blythe discovery and take advantage of the relatively favourable gas price environment and the falling rig rates, reducing development costs. We continue to pursue opportunities to acquire producing assets and to grow the portfolio by M&A activities.'
Source: IOG
back to top