North Sea Natural Resources was awarded UK License P2321 in the 29th Round in March 2017. The license consists of 7 contiguous blocks covering the Devil's Hole Horst prospect, approx. 100 miles east of Aberdeen.
The Horst was tested by 2 wells drilled by Amoco in 1967 and 1970, targeting Rotliegendes sand. Re-interpretation of the well results indicates both have evidence of hydrocarbons.
The Devil's Horst Prospect is an overlooked basin margin play concept. This play is proven to occur in the recent giant Johan Sverdrup oil field (2.7 BBO2P Reserves) discovered in 2010,which proves long distance (30 to 70kms) oil migration occurs.
Mean Prospective Resources are estimated at 1.8 BBO STOIIP (Jurassic Sand, Permian Dolomite, Devonian Sand) .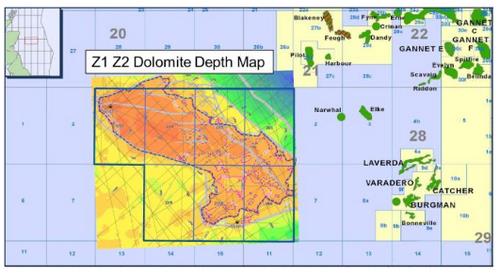 284 kms of high resolution 2D seismic is planned to be acquired in 2020 for an estimated cost of £250,000.
225 sq kms high resolution 3D seismic survey is planned to be acquired before May 2021 for an estimated cost of £3M. An appraisal/exploration well will be drilled in a water depth of 260 feet (80m) to a depth of 6500feet (1990m) at an estimated gross cost of P50: $26.8 Min Phase C (May 2021 to May 2023).Time estimate for drilling is P50: 57days.
The drill or drop decision is 15th May 2021 or 2022. The well is due to be drilled in Phase C. Phase C is from 15th May 2021 to 15th May 2023. OGA state that the 6-year term can be extended one year due to the Coronavirus Business Interruption.
NSNR, owns 100% and is offering 50% licence equity in return for investment in the seismic and drilling work programme. A detailed technical Information Memorandum is available.
Click here for Prospect Flyer
Further information regarding this opportunity and 355 other current farmout opportunities worldwide, as well as details of 5463 completed deals, details of current and planned licensing rounds worldwide, and over 2600 company profiles, can be accessed by subscription to our 'premium subscriber service': Energy Pedia Opportunities