Reabold Resources, the AIM investing company which focuses on investments in upstream oil and gas projects, has exercised 272,727 warrants over shares in Corallian Energy, at a subscription price of £2.20 per share, equating to an investment of approx. £600,000. Following the exercise of the Warrants, Reabold will hold 2,780,049 Corallian shares, representing approx. 36.9 per cent. of Corallian's then issued share capital.
On 21 November 2019, Warrants were issued to all Corallian shareholders on the register at that date, with exercise of such Warrants being conditional on the successful offer of any licence(s) to Corallian by the Oil & Gas Authority (the 'OGA'), as part of the 32nd UK oil and gas licencing round. The expiry date of the Warrants was 30 November 2020.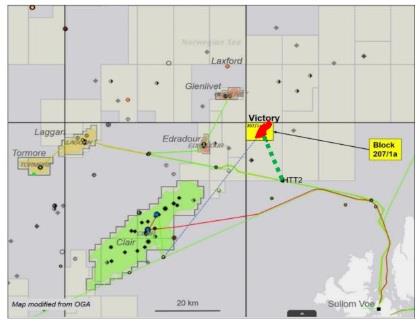 As announced on 3 September 2020, the OGA offered to Corallian 100 per cent. interests in the Victory gas discovery in block 207/1a, the Laxford gas discovery and Scourie prospects in blocks 214/29c and 214/30c, and the Oulton oil discovery in block 3/11a.
Victory is a simple, low-risk gas development located near to existing local infrastructure and has been fully appraised, requiring no additional pre-development drilling. Corallian plans to submit the Victory Field Development Plan ('FDP') to the OGA by the end of 2021, with first gas production anticipated in Q4 2024. From 2025, a 3-year gas production plateau is planned at 70 mmscf/d (11,666 boepd), delivering over 25 BCF gas per year.
The Victory project value (NPV10) is estimated to be ca. £85 million based on current gas price forecast of 42.5 pence per therm to ca. £146 based on the historical average gas price of 50p/therm. Therefore, the value (NPV10) of Victory, net to Reabold, based on its 36.9 per cent. interest in Corallian, is £31m - £54m.
Further information on Victory can be found in the following presentation:
https://reabold.com/wp-content/uploads/2017/10/Reabold-Victory-Presentation-FINAL.pdf
Stephen Williams, Co-CEO of Reabold, commented:
'We are delighted to exercise these Warrants in Corallian, increasing our equity interest at such an exciting time for the company. The Victory discovery, which is thought to be amongst the lowest risk of development projects offered in the 32nd Round, brings further optionality and additional upcoming activity to the Reabold portfolio.'
For the year ended 31 October 2019, Corallian reported a loss of £7,161,415 and, as at 31 October 2019, reported net assets of £1,974,480.
Source: Reabold Resources
© Energy 365 Limited. All Rights Reserved.
All articles on this website are protected by the Copyright, Designs and Patents Act 1988.
Whilst news, facts and information are not subject to copyright, the creation of a story from those facts is. Whilst third parties can legally quote our work under 'fair dealing' it is illegal to lift articles in their entirety. We will immediately seek royalty payments from third parties who copy our work.