News listings
energy-pedia general news

United Kingdom
UK: Talon Petroleum completes acquisition of Encounter Oil
15 May 2019

Talon Petroleum has completed the acquisition of EnCounter Oil.
Accordingly, Talon now holds 100% interests in EnCounter's highly prospective exploration licences in the UK North Sea. Licence 2363 contains the 107mmbo (best estimate prospective resource) Skymoos Prospect and Licence 2392 which hosts the 27mmbo (best estimate prospective resource) Rocket Prospect.
In addition, EnCounter founder and UK North Sea exploration specialist Mr Graham Dorè has joined the Talon Board as a Non-Executive Director, and EnCounter's Mr Paul Young joins as Geoscience Manager.
North Sea Strategy Update
Skymoos and Rocket Prospects
The Company has recently licensed additional high-quality 3D seismic data over both Rocket and Skymoos and has commenced a farmout process to secure industry partners to provide expertise and funding support for the drilling of these high-impact exploration targets. Talon has received strong interest from potential partners at this early stage and is confident of securing a farm-in partner for both assets in the near term.
Curlew-A appraisal project
Operations planning in respect of the Curlew-A appraisal opportunity is continuing with a view to drilling in late 2019. The operator, Corallian Energy, advises that it is continuing with its farmout process and is planning for a well-site survey during the Northern summerin preparation for drilling.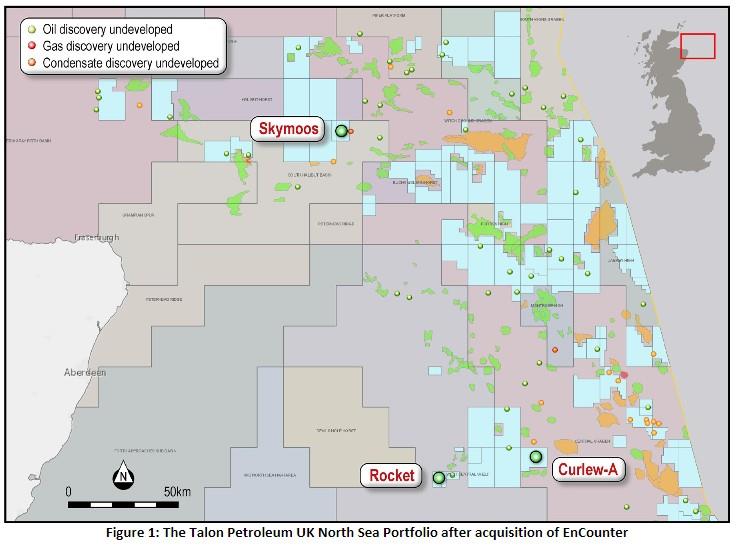 Government Licence Round opportunities
Talon has applied for an additional exploration licence in the UK Oil and Gas Authority's 31stSeaward Licensing Round. If previous licence round timings are to be used as a guide, the announcement of successful applicants can be expected in May 2019. Talon has applied for a licence area that contains high-impact exploration potential identified from good quality 3D seismic, and with low-cost work commitments in the initial phase. In the event Talon is successful in what is a competitive bid process, a farmout process for the licence will be commenced and drilling partners sought. Additionally, Talon continues to review prospects to add to its UK North Sea exploration portfolio, with several strong opportunities under consideration.
Presentation: Talon Petroleum Acquisition of Encounter Oil
Source: Talon Petroleum
back to top