UK Oil & Gas (UKOG) has announced that following Surrey County Council's ('SCC') 3rd August decision to redetermine the Company's Loxley gas appraisal planning application, SCC have now confirmed to UKOG that the rerun is scheduled for 27th November 2020.
This unprecedented rerun decision was taken by SCC following receipt of external advice regarding the Company's and over 100 other formal complaints questioning the lawfulness of SCC's 29th June planning committee meeting ('PCM'). During this PCM the members voted by 6 to 5 against SCC's planning officer's recommendation to consent to UKOG's development.
Loxley: a material UK gas resource
As per the Company's 21st October announcement, an Xodus report estimates that the Company's 100% held PEDL234 licence contains significant calculated mean and high case recoverable gas volumes of 34 billion cubic feet ('bcf') and 54 bcf respectively, placing Loxley as the second largest gas accumulation ever discovered and flow tested in the UK onshore. Xodus calculate that approx. 78% of the overall Loxley gas accumulation lies within PEDL234.
Stephen Sanderson UKOG's Chief Executive commented:
'Despite the further delay to the PCM rerun, UKOG welcomes the opportunity to restate why its low footprint Loxley gas project is of material local and national economic importance, representing an opportunity to power around 200,000 Surrey homes from Net Zero compliant UK gas. The submitted development presents minimal visual, local business and highway impacts and already has a full environmental permit from the Environment Agency.'
PEDL143 Update (UKOG 67.5%)
A detailed study examining the viability of drilling the A24 (formerly Holmwood) Portland prospect's centre from selected sites outside the Surrey Hills Area of Outstanding Natural Beauty, each over 3 km from the target, concludes that the required long-reach/shallow target-depth wells are neither technically viable or economically feasible. Consequently, UKOG and its partners have now relinquished their interests in the licence. It remains a great disappointment to the Company that the licence's former operator, Europa Oil and Gas, whilst in possession of planning consent, failed to drill the prospect from the Holmwood site, around 1 km from the target.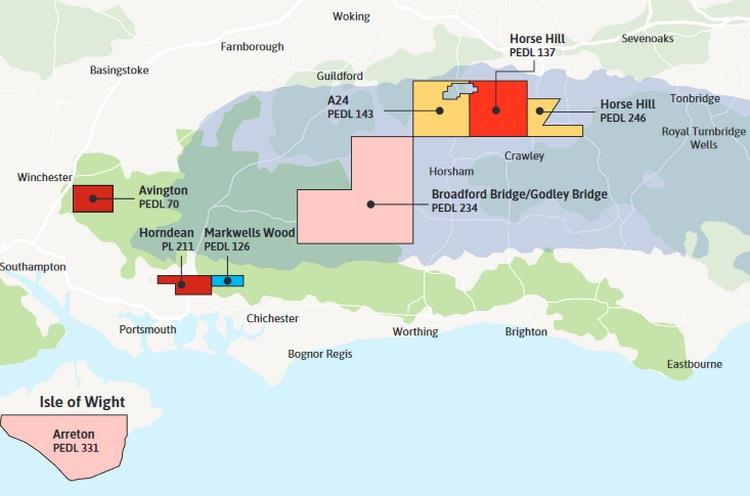 Source: UKOG