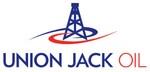 AIM-listed Union Jack Oil, a UK focused onshore conventional hydrocarbon production, development and exploration company, has announced an update from Rathlin Energy (UK) (the 'Operator'), in respect of the estimated in-place oil and gas volumetrics of the Kirkham Abbey reservoir in the West Newton project area, contained within PEDL183.
The Operator has undertaken a number of core, geochemical and other technical studies, which are outlined in this announcement, and re-evaluated the volumetrics of the West Newton Kirkham Abbey reservoir, utilising data from the West Newton A-1 discovery well and the data available to date, from the West Newton A-2 appraisal well.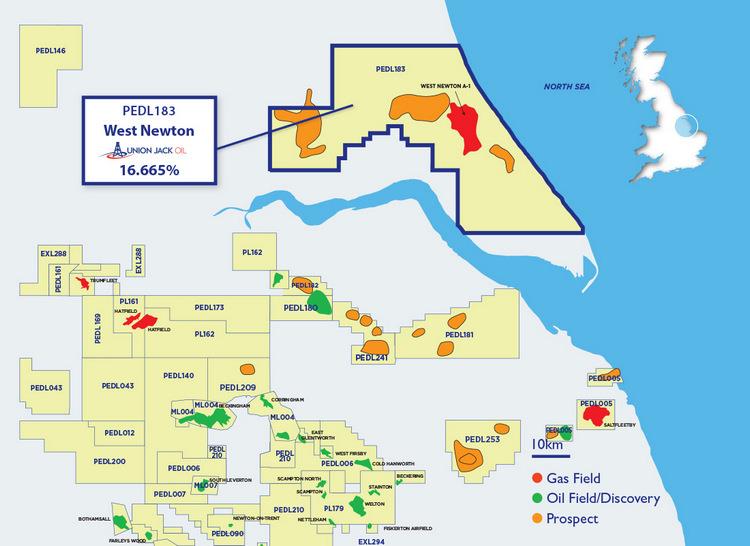 Highlights
Re-evaluation of data indicates a material upgrade in liquid hydrocarbons contained in the Kirkham Abbey reservoir in the West Newton project area
Base Case:

Liquids: 146.4 million barrels ("mm bbl") of stock tank oil initially in-place ("STOIIP")
Gas: 211.5 billion cubic feet ("bcf") of gas initially in-place ("GIIP")

Upside Case:

Liquids: 283.0 mm bbl STOIIP
Gas: 265.9 bcf GIIP
Revised Volumetric Assessment
Based on the well and test data, and subsequent analysis to date, the Operator has provided updated volumetric estimates for two scenarios, a Base Case and an Upside Case, resulting in the following in-place estimates: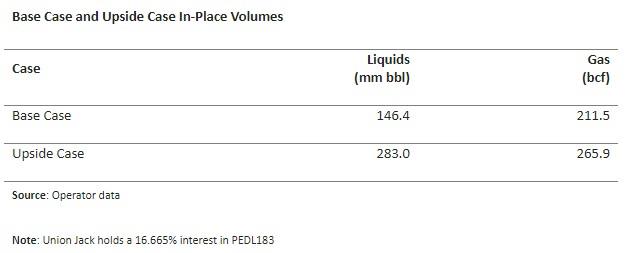 Basis for Re-Evaluation of the Kirkham Abbey Reservoir
Differing rock volumes, porosities and saturations, based on direct measurement and analogue data, has been used in arriving at the in-place hydrocarbon estimates;
Evaluation of drilling results from the West Newton A-2 well, particularly the revised petrophysical, fluid saturation, sedimentological and diagenetic analyses;
Identification of the oil leg in the Kirkham Abbey reservoir in the West Newton A-2 well, based on geochemical analysis of the gas and fluid samples, core fluorescence and surface samples, including results obtained from the Pulsed-neutron Raptor tool;
28 metre core sample through the Kirkham Abbey interval, which yielded important sedimentological and depositional data and core analysis.
About PEDL183
PEDL183 covers an area of 176,000 acres and is situated in East Yorkshire, within the Southern Permian Basin. Union Jack holds a 16.665% interest in this licence, which contains the West Newton A-1 discovery well and the West Newton A-2 appraisal well.
In the United Kingdom, the carbonates of the Southern Permian Basin have targeted and produced onshore and offshore in the Southern North Sea Gas Basin. These carbonates have been extensively explored and produced onshore in the Netherlands, Germany and Poland, which provide several direct analogues for PEDL183 and West Newton.
David Bramhill, Executive Chairman of Union Jack, commented:
'The results of the Operator's analysis confirm that the estimated in-place hydrocarbon volumes at West Newton comprise a significant proportion of liquids, which represent a material increase over and above those figures provided by the existing CPR.
'We are looking at an onshore project with potential offshore resources, and to date, West Newton is demonstrating the elements required to become a significant conventional hydrocarbon development project in the future.'
Source: Union Jack Oil