Matador Resources has announced the successful acquisition of 8,400 gross (8,400 net) acres for approx. $387 million, or a weighted average cost of approx. $46,000 per net acre, in Lea and Eddy Counties, New Mexico in the Bureau of Land Management ('BLM') New Mexico Oil and Gas Lease Sale on September 5 and 6, 2018.
Joseph Wm. Foran, Matador's Chairman and CEO, commented:
'Matador is very excited by these purchases. Over the past several years, Matador has followed a strategy of primarily building its Delaware Basin land position on a 'brick by brick' basis, but we have always believed it is also important to capture unique value-creating opportunities on a select basis, like the recent BLM lease sale, which was the largest BLM New Mexico Oil and Gas Lease Sale in the last 10 years. Each tract we acquired was evaluated based on rock quality, the number of potential commercial zones, potential additional reserves bookings, the added value from the lower 1/8th royalty interest, available midstream opportunities and the tract's strategic fit within our existing portfolio of properties. As a result, while some of the acreage values were higher than Matador and others have paid in the past, we were able to acquire each tract for less than our full valuation. We will, of course, continue our 'brick by brick' strategy, which has worked well for us—and is continuing to work well for us—but we will also strive to be prepared in the future for special opportunities such as this one.'
Other important considerations made by Matador's Board of Directors and staff in valuing this newly acquired acreage included the following:
Matador estimates these properties should immediately add an incremental 16.3 million barrels of oil equivalent ("BOE"), or 10%, in proved undeveloped reserves ("PUDs") with a PV-10 (a non-GAAP financial measure) of approximately $135 million to its total proved reserves base. This amount equates to a weighted average value of approximately $16,000 per net acre acquired. The total estimated value of these PUDs is additive to Matador's previously reported proved oil and natural gas reserves of 170.2 million BOE at June 30, 2018, consisting of 95.4 million barrels of oil and 448.2 billion cubic feet of natural gas with a PV-10 (a non-GAAP financial measure) of $1.8 billion.
The acquired leases are federal leases and provide an 87.5% net revenue interest ("NRI") as compared to approximately 75% NRI on most fee leases today. As a result, Matador will retain an additional 17% of the net production from each well drilled and completed on these properties, which should significantly improve the economics of wells drilled on this acreage. Matador believes this increased NRI substantially enhances the value of the acquired properties, especially given the Company's expectation of multiple zones of development, including as many as seven to nine potentially productive zones in certain tracts.
The large majority of the acquired acreage is believed to be conducive to drilling longer laterals of up to two miles or more, utilizing central facilities and multi-well pad development, which should reduce well costs and further improve well returns and economics. The positive effects of this acquisition on Matador's production and on potential additional midstream opportunities should begin to be realized in late 2019, 2020 and beyond as Matador expects to initiate production from these properties with higher NRIs and lower costs per lateral foot.
The acquired acreage blends well with Matador's existing properties, expanding and bolting on acreage in the Antelope Ridge asset area in Lea County, New Mexico and establishing a foothold for the Company in the prolific Stateline area in Eddy County, New Mexico, while maintaining Matador's weighted average all-in Delaware Basin acreage cost at approximately $11,000 per net acre. The maps provided illustrate the location of the properties acquired in the BLM lease sale (in blue) along with Matador's existing Delaware Basin acreage position (in red).
The acquired acreage includes approx. 2,800 gross/net acres in the Stateline area, 4,800 gross/net acres in the Antelope Ridge asset area, 400 gross/net acres in the Arrowhead asset area and 400 gross/net acres in the Twin Lakes asset area, bringing Matador's total leasehold and mineral position in the Delaware Basin to approx. 217,400 gross (123,800 net) acres (pro forma at August 1, 2018). Although all of the acquired acreage is undeveloped, most of the acreage is prospective for multiple geologic targets in areas where operators have already achieved strong well results as outlined on the maps provided. Matador expects to finance these acreage acquisitions using cash on hand and borrowings under its revolving credit facility, which had no borrowings outstanding at September 12, 2018, but additional options include, among others, the divestiture of portions or all of its non-Delaware Basin assets.
Mr. Foran further commented:
'We have waited and managed our balance sheet carefully over time for this special opportunity. As a result, our financial position and liquidity remain strong, with a pro forma Net Debt to Adjusted EBITDA (trailing twelve months) ratio of 1.9x. The specific location of these select assets, the multi-pay potential in several prolific zones, the cost savings associated with developing these new assets via longer laterals on multi-well pads with centralized facilities and the favorable net revenue interest along with other favorable federal lease terms were key features that attracted Matador to this unique opportunity and should significantly enhance our already strong Delaware Basin leasehold and mineral portfolio. Additionally, we see further opportunities for Matador to unlock additional value across this quality acreage position, including midstream opportunities and the ability to add to our growing minerals and leasehold positions. The 'read-through' of this sale to the value of our total leasehold and mineral positions is very encouraging and we are very excited by the additional opportunities this newly-acquired acreage provides.'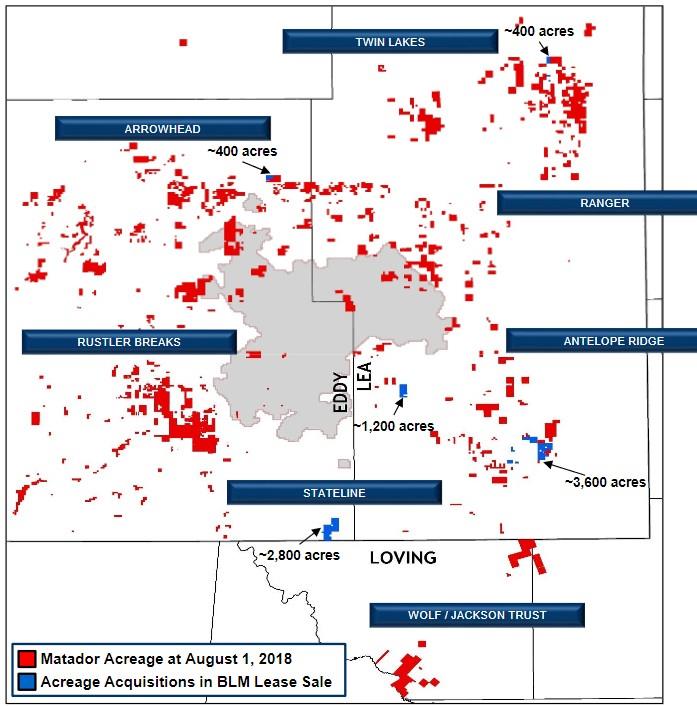 For further information, see the Presentation: Acreage Acquired in BLM Lease Sale Overview
Source: Matador Resources