AIM-listed Pantheon Resources has spudded the Talitha-A well, North Slope of Alaska (89.2% working interest).
The Talitha #A appraisal well spudded ahead of schedule on 13 January, 2021, with drilling planned to a total vertical depth of approx. 10,000 feet. The well will target the shallowest Shelf Margin Deltaic horizon as the primary objective and will also drill through a number of secondary objectives including: (i) the 'Slope Fan System', (ii) the 'Basin Floor Fan', and (iii) the 'Kuparuk' horizons.
Drilling and testing operations at Talitha #A must be completed prior to the onset of Spring when temperatures warm up and the ice road begins to thaw. Historically, the drilling season has ended near the end of March. Given the number of targeted formations, and subject to positive results, Pantheon intends to make full use of the available drilling window, undertaking drilling and testing operations as long as weather permits. As of 1730 Alaskan time on 13 January the well was drilling ahead at a depth of 225 feet.
Talitha #A is located approximately eight miles west of the Dalton Highway and Trans Alaska Pipeline System ("TAPS") and four miles from the Pipeline State #1 well, drilled in 1988 by ARCO, and which confirmed the presence of movable hydrocarbons in the objective horizons. The close proximity to pipeline and transportation infrastructure offers Pantheon a number of material advantages over other Alaska North Slope projects, including lower capex costs and shorter project development timelines.
The Company estimates the Talitha #A well will target in the region of a billion barrels of recoverable oil potential across the multiple stacked (primary and secondary) objectives. An independent Expert's Report was completed on the updip section of the Shelf Margin Deltaic, the primary target at Talitha #A, and confirmed a Prospective Resource of 302 million barrels of recoverable oil. Formal delineation of the ultimate potential of the lower, secondary targets requires additional analysis.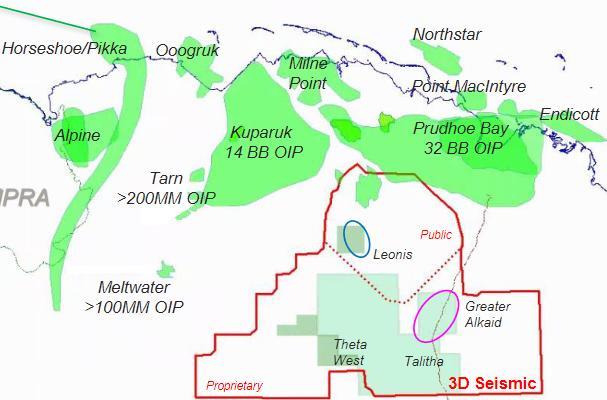 Bob Rosenthal, Technical Director of Pantheon, said:
'The Talitha #A well is geologically significant as the well location will assess four independent targets over three potentially giant oil fields, unique in my over 40+ years' experience. Multiple independent targets increase the statistical likelihood for success for the well, and success in any one of these zones would be material for Pantheon.'
'The Talitha #A well has been positioned to intercept our primary and shallowest objective, the Shelf Margin Deltaic ("SMD"), in the optimum location, structurally higher (updip) from the Pipeline State #1 discovery well where oil shows, logged pay and free oil in the mud pits were encountered in this and other zones. Our modelling predicts better reservoir qualities for the SMD in Talitha #A's updip location and our other target zones.'
'The wellbore is positioned optimally for the primary SMD target. Achieving an effective test in this horizon is the top priority for the well. Accordingly, the well is not optimally located for all the secondary zones, in particular the Basin Floor Fan, however these horizons are in structurally better locations than in the downdip Pipeline State #1.'
Jay Cheatham, CEO of Pantheon, said:
'We all understand the impact this well has for Pantheon. Most of us have waited our entire careers to drill a well of this significance. To spud early in the drilling season is a bonus. If possible we want to log and test all four independent zones. Drilling season on the North Slope is short and weather dependent, usually ending at the end of March, so each additional operational day is valuable. When we completed our fund raising in late November, our estimated spudding date was late January. We've now accelerated that by about 15 days, which is testament to the great job of our team, our contractors and the State.'
Source: Pantheon Resources