News listings
energy-pedia development and production

Venezuela
Venezuela sees first production from new Orinoco heavy oil projects in 2011
28 Oct 2010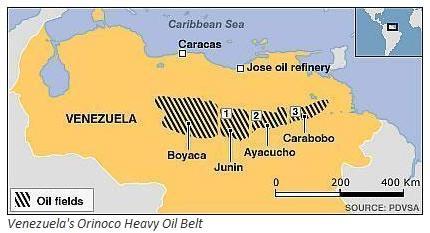 Venezuela hopes to begin first production from new oil projects in its vast Orinoco heavy extra crude belt as soon as 2011, a year ahead of schedule, Oil Minister Rafael Ramirez said on Wednesday.
President Hugo Chavez's government has signed deals with several foreign companies for developments that are anticipated to add 2.1 million barrels per day (bpd) of new output and bring Venezuela some $80 billion in investment. Most of the projects had been expected to begin producing the Orinoco's tar-like crude no sooner that 2012, but Ramirez said first production was now expected to begin next year.
Much of the focus has been on Junin Block 6, which has estimated potential of 450,000 bpd and where Venezuela's state oil company PDVSA is partnered with a Russian consortium. Ramirez told reporters investments of $800 million were planned for that block in 2011. The members of the Russian consortium are Rosneft, Gazprom, LUKOIL, TNK-BP and Surgutneftegaz.
Other companies with interests in the Orinoco belt include Chevron and Spain's Repsol.
Source: Newswires
back to top