Highlights
Invictus & Sable Chemical Industries Limited sign MOU to progress gas supply from Cabora Bassa Project
MOU signed for the supply of up to 26 billion cubic feet of gas per year (Bcf) for 20 years (70 million cubic feet per day)
Major step towards underpinning the development of the Cabora Bassa Project subject to a commercial discovery being made
Invictus Energy has announced that the Cabora Bassa Project partners, comprising Invictus (80%) and One-Gas Resources (20%), have entered into a non-binding Memorandum of Understanding (MOU) with Sable Chemical Industries to progress gas supply from the Cabora Bassa Project subject to a commercial gas discovery being made from SG 4571.
Sable is the sole manufacturer of agriculture grade ammonium nitrate fertiliser in Zimbabwe and a potentially large gas consumer.
Under the MOU, Invictus and Sable have agreed to jointly work together and cooperate with regards to investigating the economic and commercial viability of supplying natural gas from the Cabora Bassa Project to the Sable fertilizer plant located in Kwekwe, Zimbabwe.
Key Terms
The key terms of the MOU are as follows:
Minimum Daily Contract Quantity (DCQ) of 35 mmscf/d (~13 bcf per year)
Sable can elect to increase DCQ to 70 mmscf/d (~26 bcf per year)
Minimum Total Contract Quantity of 255 Bcf
Maximum Total Contract Quantity of 510 Bcf
Supply term of twenty (20) years from the date of First Commercial Gas Production
Gas sales price commercial in confidence
Conditions Precedent
The conditions precedent in the MOU include:
Confirmation of a commercial hydrocarbon discovery in SG 4571
Completion of a Gas Sales and Purchase Agreement (GPSA) by 30 June 2021
Completion of feasibility studies to upgrade Sable's existing process and replace the feedstock with natural gas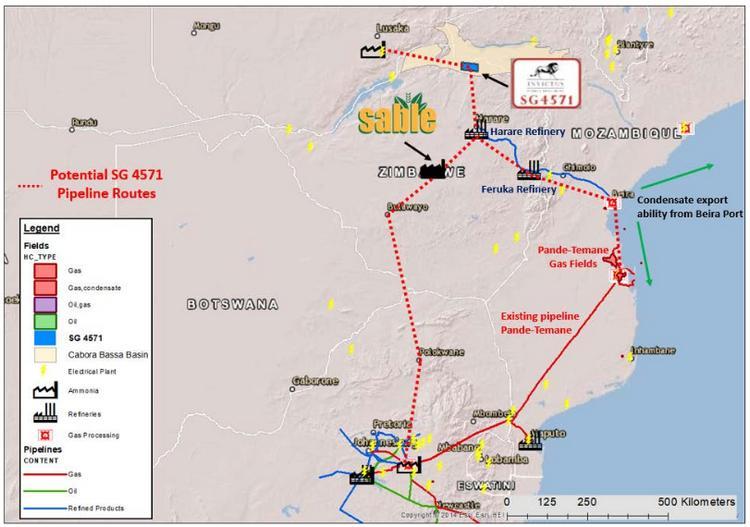 Invictus Managing Director Scott Macmillan commented:
'Signing this MOU with Sable marks a significant milestone in our commercial negotiations as we look to progress the Cabora Bassa Project. Sable is the sole producer of nitrogenous fertilizer in Zimbabweand a well-recognised brand in the country. We are proud to work with them to fulfil their ambition of becoming the preferred manufacturer and supplier of fertilizers and other chemical products in Africa.
The potential gas supply of up to 70 million cubic feet per day for 20 years is a substantial volume which will help underpin the development of any commercial gas discovery we make in the Cabora Bassa Project. This MOU demonstrates the huge local gas demand in an energy starved market in Zimbabwe and we expect to enter into additional gas supply MOUs in the future.'
Sable Chemicals was established in 1969 and currently operates a fertilizer manufacturing plant which produces ammonium nitrate fertilizers from ammonia gas feedstock which is currently imported from South Africa.
Bothwell Nyajeka CEO of Sable Chemicals commented:
'We are extremely pleased to enter into this MOU with Invictus and potentially secure an indigenous natural gas supply to produce ammonia gas for our fertilizer plant. Sable Chemicals currently has a capacity to produce 240,000 tonnes of ammonium nitrate per year and has historically played an important anchoring role in the agricultural sector of Zimbabwe, thus ensuring that well priced fertilizers, with formulations that are optimized to suit local conditions, are made available to farmers in a timeous manner each year.
The potential future supply of gas by Invictus is also critical for Sable's medium-term expansion program aimed at increasing production to 600,000 tonnes of nitrogenous fertilisers.'
Source: Invictus Energy