HIGHLIGHTS
Seismic Inversion and further quantitative analysis studies indicate strong potential for stacked pay intervals at shallow target level in Post Dande (Horizon 200)
Likely to comprise of multiple stacked hydrocarbon bearing zones from 40-80m thick
500 Horizon Target (Upper Angwa) demonstrates extensive flat spot across southern flank of structure
New PSDM (Pre-Stack Depth Migration) studies show anomalous, low interval velocity zones, correlative with target intervals within structural closure in Upper Angwa primary target (Horizon 500 & 600) potentially indicative of gas fill
Invictus Energy has provided an update on the activities of its 80% owned and operated Cabora Bassa Project in Zimbabwe.
Seismic inversion results show potential for multiple stacked hydrocarbon bearing zones in new Post Dande target (Horizon 200)
Further quantitative analysis (QA) studies continue to provide support for the presence of potential hydrocarbons in the Mukuyu structure. The results from a seismic inversion/QA study indicate that the section immediately below the Horizon 200 target is likely to comprise multiple stacked hydrocarbon bearing zones, ranging in thickness from 40 to 80m. Accordingly this has necessitated an update to the drilling program to include a diverter system for the shallow sections of the Mukuyu-1 well.
This attribute, Lambda-Rho (LR) is shown in Figure 1 below.
The ASX release on 7 April 2022 highlighted the extensive amplitude anomaly at the Horizon 200 level and the very positive correlation of amplitude extent and structural closure – this fit to structure is regarded as a very strong attribute for any prospect and a potential Direct Hydrocarbon Indicator (DHI).
The Horizon 200 target is newly identified from the 2021 Cabora Bassa 2D Seismic Survey ('CB21 Survey') and will be first target tested in the Mukuyu-1 well.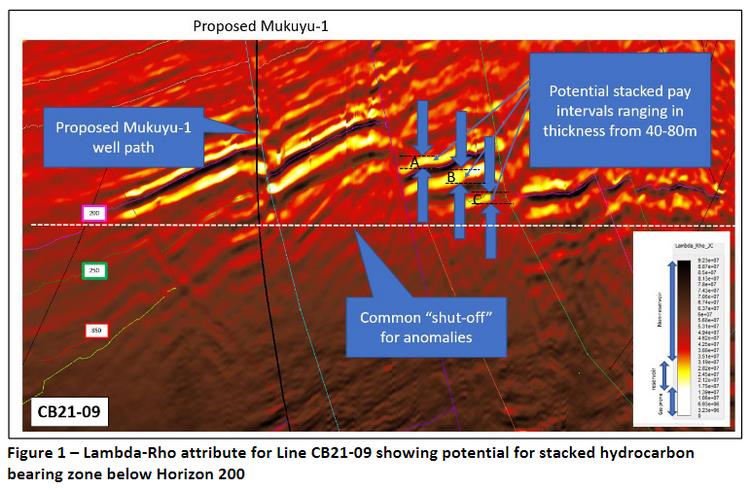 While there are no wells present in the basin to enable calibration of the results, the strength of the anomaly and the values calculated are in the range that potentially indicate the presence of light hydrocarbons (most likely gas).
Click here for full announcement and further technical details
Source: Invictus Energy