energy-pedia
news, information and opportunities
latest headlines
Ithaca Energy has announced the successful completion of flow test operations on the fourth development well on the Stella field, with the well achieving a flow rate of 12,005 barrels of oil equivalent per day (boepd). ... more ...
Royal Dutch Shell and Total must accept Brazil's state-run Petrobras as a partner in their Gato do Mato offshore oil prospect under new Brazilian law, the country's top oil regulator said Wednesday, a move that could strip Shell of operational control of the resource. ... more ...
Cairn India said on Wednesday it had made three new oil discoveries in its exploration block in the western Rajasthan state, taking its total oil discoveries in the block to 36. One of the wells is in close proximity to the company's Mangala field and it is planning fast track appraisal to commercialize the discovery. ... more ...
Brazil does not intend to schedule regular oil exploration and production rights auctions, the top petroleum official at the country's energy ministry said on Wednesday. The comment came after industry officials called this week for the ministry to set a calendar of sales to help companies make long-term plans to invest in Brazil. ... more ...
In the International Bid Round 2013, RWE Dea has been awarded two new offshore concessions with operatorship by the Egyptian General Petroleum Corporation (EGPC). The concessions are located in the Gulf of Suez, where the company is producing oil as operator for more than 30 years. ... more ...
Equatorial Guinea: Ophir Energy announces new gas discovery at Silenus East-1 well and resources update

Ophir Energy has announced that the Silenus East-1 well in Block R, Equatorial Guinea has resulted in a new gas discovery. The Silenus East-1 well was drilled by the Vantage Titanium Explorer drillship within the thrust belt area of Block R. A 67m gross gas column was encountered in the primary target with high quality reservoir in line with pre-drill expectations. The well was deepened to test a secondary high risk oil target and encountered high quality, but water-wet, reservoirs with weak oil shows. This play remains of interest to Ophir and will be further evaluated on the Block.
The drillship has now moved to complete the Fortuna-2 appraisal well, where Ophir will conduct the first flow test in Block R.
The Silenus East-1 well has discovered an estimated mean recoverable 405bcf of gas from the upper and deeper reservoirs and has significantly de-risked a family of similar surrounding prospects such that the total mean recoverable gas in the broader Silenus area including this discovery is now estimated at c.1.2TCF.
Following the Silenus East-1 and Tonel North-1 well results, the total estimated mean recoverable resources for Block R, including the discoveries and adjacent derisked volumes, are now 3.4TCF, comprising 1.3TCF from the Fortuna Complex, 1.2TCF from the Silenus Complex, 0.5TCF from Tonel and 0.4TCF from the other smaller discoveries.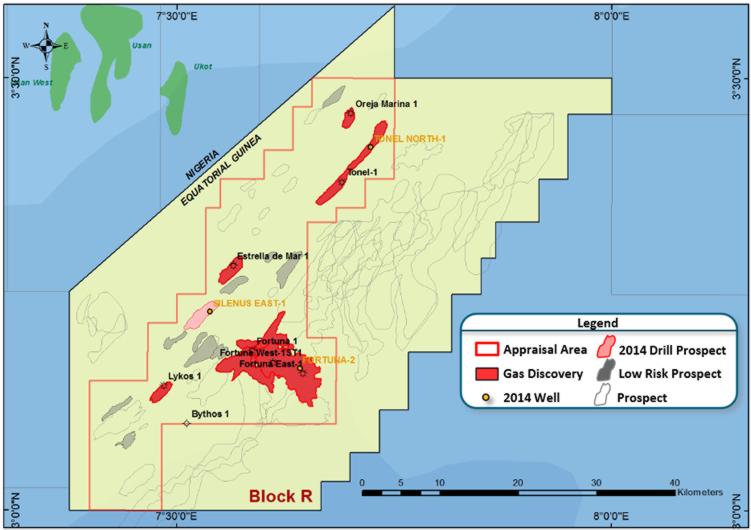 Nick Cooper, CEO, commented:
'The Silenus East well result has confirmed sufficient incremental volumes for Ophir to be able to expand the Block R FLNG project from a 2.5mmTPA to a 3.0mmTPA project. This is important in that it provides economies of scale that increase the value of this already economic project. First gas from the FLNG project is expected to be in early 2019 and this timetable is expected to be confirmed when we achieve the milestones of signing the Block R gas terms and confirming the midstream partners during Q4 2014. At current equity levels the EG FLNG project represents a potential net 2.4mmTPA to Ophir from early 2019. In comparison Tanzania represents a net 2.0-3.0 mmTPA from late 2021.'
See Ophir's September 2014 Presentation for full technical details
Source: Ophir Energy
Sign up for free daily newsletter
---

energy-pedia news is a FREE news service written and edited by E&P professionals for E&P professionals. We don't just report the news, we give you the technical background as well, with additional information derived from our unique energy-pedia opportunities service. Click here to sign up.
---
energy-pedia opportunities

energy-pedia opportunities currently includes comprehensive details of over 1100 upstream opportunities along with historic details of over 2,000 completed deals. Included are licensing details, current, future and historic, along with details of 1000's of corporate and company deals. Also included are company profiles of over 1,500 upstream oil companies worldwide.
energy-pedia opportunities provides intuitive, interactive, real time online information updated on the hour, helping established oil companies to maintain and develop their upstream portfolios while enabling start-up companies plan and build successful worldwide businesses.
For further information click here: energy-pedia opportunities
news by region
energy-pedia world map movie
back to top