energy-pedia
news, information and opportunities
latest headlines
Solo Oil has announced that, following preliminary evaluation of the electric logs, the Horse Hill-1 well has discovered an oil accumulation in the conventional Upper Jurassic Portland Sandstone. A preliminary most likely estimate of 3.1 mmbbls of gross in place hydrocarbon volume has been calculated, with significant upside potential. ... more ...
In October, a Terraseis 3D crew completed the first Three Component (3C) seismic survey in Iraq. The project was completed in Kurdistan, adjacent to the recent armed conflict along the Kurdish regional border. ... more ...
Canada's No. 3 integrated oil and gas producer Husky Energy raised cost estimates on its new Sunrise oil sands project by nearly 19 percent to C$3.2 billion as it reported third quarter earnings on Thursday. First production from the northern Alberta project, operated by Husky as a joint venture with BP, will also be delayed. ... more ...
Ophir Energy has expanded its footprint offshore Gabon by signing exploration and production sharing contracts for two additional blocks. The new blocks, A3 and A4, are located outboard of Ophir's existing acreage in the North Gabon basin. ... more ...
AIM-listed Sterling Energy has issued its Interim Management Statement for the period beginning 1 July 2014 and provided an update on its operations in Cameroon, Somaliland, Madagascar and Mauritania. ... more ...
UK: GDF Suez and BP discover new Central North Sea field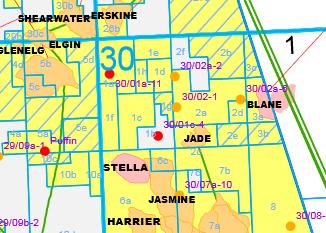 GDF SUEZ E&P UK and BP have announced a new exploration discovery in the UK Central North Sea. The discovery, which spans GDF SUEZ operated Block 30/1f (licence P1588) and BP operated Block 30/1c (licence P363) was flow tested at a maximum rate of 5,350 barrels of oil equivalent per day. The discovery, referred to as 'Marconi' by GDF SUEZ and 'Vorlich' by BP, is located in the Central North Sea.
Ruud Zoon, Managing Director of GDF SUEZ E&P UK said: 'This is an encouraging exploration discovery in a part of the Central North Sea that needs additional volumes of hydrocarbons to open up development options for several stranded discoveries. The discovery is our third successful well this year and demonstrates a continuing commitment by GDF SUEZ to an active exploration and appraisal drilling programme on the UK Continental Shelf.'
Trevor Garlick, Regional President of BP North Sea said: 'As BP marks its 50th year in the North Sea and as the industry looks to maximise economic recovery from the basin, increasing exploration activity and finding new ways to collaborate will be critical to realising remaining potential. This discovery is a great example of both.'
The well was drilled by GDF SUEZ E&P UK as operator, with the Transocean Galaxy II jack- up rig under a joint well agreement between the two licence groups.
Business and Energy Minister Matthew Hancock said: 'We are determined to have set the right fiscal and regulatory regimes to make sure we can get the maximum possible economic extraction of oil and gas from the North Sea. This discovery shows exactly what can be achieved in the North Sea if companies work together to maximise the considerable potential of remaining oil and gas reserves.'
Background
Exploration well 30/1f-13AZ encountered hydrocarbons in a Palaeocene sandstone reservoir in Block 30/1c (licence P363 operated by BP) and a subsequent side-track into Block 30/1f (licence P1588 operated by GDF SUEZ E&P UK Ltd) confirmed the westerly extension of the discovery.
Equity interests in the P1588 licence are operator GDF SUEZ E&P UK Ltd (50.00%) and partners RWE DEA UK SNS Limited (27.78%) and Maersk Oil North Sea Limited (22.22%).
Equity interests in the P363 licence are oper ator BP Operating Company Ltd (50.00%) and partner Total E&P UK Ltd (50.00%).
Source: BP
Sign up for free daily newsletter
---

energy-pedia news is a FREE news service written and edited by E&P professionals for E&P professionals. We don't just report the news, we give you the technical background as well, with additional information derived from our unique energy-pedia opportunities service. Click here to sign up.
---
energy-pedia opportunities

energy-pedia opportunities currently includes comprehensive details of over 1100 upstream opportunities along with historic details of over 2,000 completed deals. Included are licensing details, current, future and historic, along with details of 1000's of corporate and company deals. Also included are company profiles of over 1,500 upstream oil companies worldwide.
energy-pedia opportunities provides intuitive, interactive, real time online information updated on the hour, helping established oil companies to maintain and develop their upstream portfolios while enabling start-up companies plan and build successful worldwide businesses.
For further information click here: energy-pedia opportunities
news by region
energy-pedia world map movie
back to top