energy-pedia
news, information and opportunities
latest headlines
Progress Energy Canada, Pacific NorthWest LNG (PNW LNG) and PETRONAS have signed transaction agreements whereby Indian Oil Corporation Ltd, through its affiliates, will acquire a 10 percent interest in Progress Energy's LNG-destined natural gas reserves in northeast British Columbia and in the proposed PNW LNG export facility on Canada's West Coast. ... more ...
South African petrochemicals group Sasol is keen to invest in a domestic shale industry once it gets off the ground, its chief executive said, in a potential challenge to oil major Royal Dutch Shell. ... more ...
East West Petroleum has provided an update on its operations in the Taranaki Basin of New Zealand. The Company's joint venture partner, TAG Oil, is the operator of all licences. ... more ...
InterOil Corp has spudded the Wahoo-1 exploration well in Papua New Guinea. The well is the second of four exploration wells InterOil plans to drill in the Gulf Province over the next 12-15 months, in addition to the drilling of up to four appraisal wells on the Elk-Antelope and Triceratops discoveries, under a US$300 million exploration and appraisal program. ... more ...
MMA has been awarded a contract for two PSV's for long-term production support operations with INPEX Operations Australia. MMA will operate two newbuild PSV's for the INPEX-operated Ichthys LNG Project with a fixed term of 5 years fixed plus two 5 year options. ... more ...
South Africa: Sasol keen for piece of S.Africa shale gas action
South African petrochemicals group Sasol is keen to invest in a domestic shale industry once it gets off the ground, its chief executive said, in a potential challenge to oil major Royal Dutch Shell.
South Africa's cabinet proposed new regulations to govern exploration for shale gas late last year after it lifted a 2012 moratorium on the activity in the central Karoo region. Fracking in the region might tap what is believed to be some of the world's biggest reserves of the energy source and the government wants to develop an industry that it sees as a potential game-changer in Africa's largest economy.
'I am very excited because of the technologies we can bring to the table. We've got shale gas upstream experience in British Columbia,' Sasol Chief Executive David Constable said on Monday. 'We want to get involved and participate and monetize that gas in country with gas to liquid, gas to power, gas to chemicals,' he said after the group posted a 26 percent rise in half-year earnings.
Shell has applied for an exploration licence and once all of the new regulations are in place it is expected to be near the front of the line. Constable said Sasol wanted to take part. 'We are really interested in what is going in the Shell block and would love to farm in or take a piece of it. Shell is issuing profit warnings and pulling back capex right now,' he said.
Shell said in January that it planned to cut capital spending to $37 billion this year from $46 billion in 2013, following a profit warning. Shell was not immediately available to comment on Monday. Constable said the government should take Shell's strategy into account.
South Africa's Public Investment Corporation (PIC), which is Sasol's biggest shareholder with a 13 percent stake in the company and manages 1.4 trillion rand ($130.3 billion) in civil servant retirement funds, has also said it wants a big slice of the shale pie.
Fracking involves pumping pressurised water, chemicals and sand underground to release gas trapped in shale formations and the prospect of it occurring in the semi-arid and sparsely-populated Karoo region, known for its big skies and scenery, has raised concerns anong conservationists. Constable said Sasol's experience in British Columbia would enable the company to carry out the process "in an environmentally friendly fashion."
Sasol said headline earnings per share (EPS) for the six months to the end of December increased 26 percent to 30.19 rand, in line with the group's trading update last month. Earnings were lifted by a weaker rand currency and higher chemical prices. Headline EPS is the primary measure of profit in South Africa and strips out one-off items. Operating profit was hit by one-off items including a 5.3 billion rand impairment on Canadian shale assets prompted in part by poor prices in the North American gas market.
Sasol said it expected a slight strengthening in the rand, which would hurt earnings for the rest of the financial year. The company raised its dividend by 40 percent to 8 rand per share, a record for a half-year payout.
See related article: Report on Karoo shale gas development shows considerable potential contribution to GDP and job creation in South Africa - Econometrix, South Africa's largest independent macro-economic consultancy, in 2012 released a study on the potential economic and employment benefits of a successful natural gas development in the southern Karoo basin. The report focuses on two conservative scenarios: 20 trillion cubic feet (tcf) and 50 tcf. The US Energy Information Administration (EIA) has previously estimated the potential shale gas resources in South Africa to be around 485 tcf.......Download Karoo Shale Gas Report by Econometrix (Jan 2012)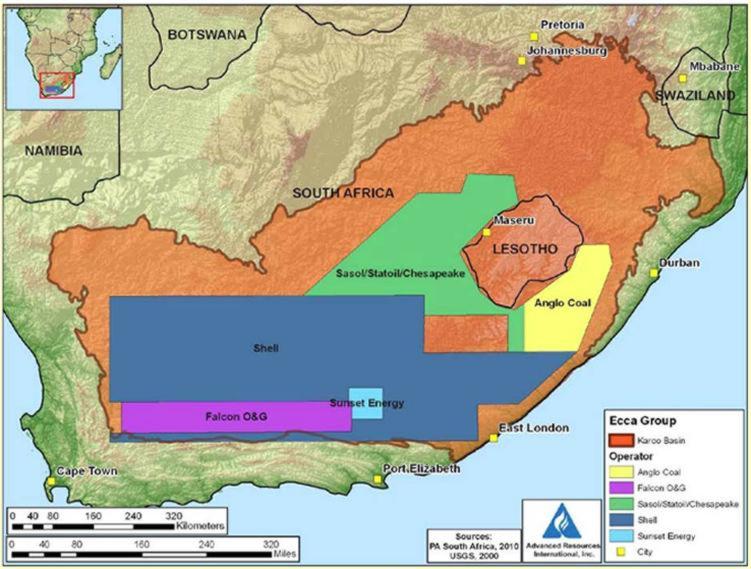 Note: Map sourced from EIA report: 'World shale gas resources: an initial Assessment of 14 Regions outside the US, EIA, April 2011'
Source: Reuters / energy-pedia
Sign up for free daily newsletter
---

energy-pedia news is a FREE news service written and edited by E&P professionals for E&P professionals. We don't just report the news, we give you the technical background as well, with additional information derived from our unique energy-pedia opportunities service. Click here to sign up.
---
energy-pedia opportunities

energy-pedia opportunities currently includes comprehensive details of over 1100 upstream opportunities along with historic details of over 2,000 completed deals. Included are licensing details, current, future and historic, along with details of 1000's of corporate and company deals. Also included are company profiles of over 1,500 upstream oil companies worldwide.
energy-pedia opportunities provides intuitive, interactive, real time online information updated on the hour, helping established oil companies to maintain and develop their upstream portfolios while enabling start-up companies plan and build successful worldwide businesses.
For further information click here: energy-pedia opportunities
news by region
energy-pedia world map movie
back to top