energy-pedia
news, information and opportunities
latest headlines
energy-pedia news will be taking an Easter break from Friday April 18 until Tuesday April 22 and would like to wish all our readers a very Happy Easter. ... more ...
Cote d'Ivoire: Total discovers oil in deep offshore Ivory Coast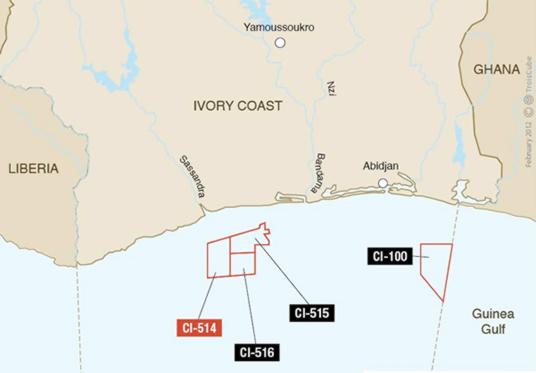 The Total-operated Saphir-1XB exploration well on Block CI-514 proved the presence of liquid hydrocarbons in the deep offshore west of Ivory Coast.
'Drilled in an abrupt margin play, this first well is the first discovery in the San Pedro Basin, a frontier exploration area in Ivory Coast,' commented Marc Blaizot, Senior Vice President, Exploration at Total. 'Having confirmed the presence of a petroleum system containing light oil, we will next evaluate this very promising find and focus on its extension to the north and east.'
Lying in 2,300 meters of water, Saphir-1XB is the first well in Block CI-514. It was drilled to a total depth of 4,655 meters, encountering around 40 meters of net pay containing light 34° API oil, in a series of 350 meters of reservoirs.
The data acquired during drilling are being analyzed and will be used to determine the area's potential and design the delineation program. Total is pursuing its intensive exploration program in the area, with plans to drill two wells in Blocks CI-515 and CI-516 by year-end.
Total E&P Côte d'Ivoire operates Block CI-514 with a 54% interest, alongside CNR International (36%) and PETROCI Holding (10%).
Source: Total
Sign up for free daily newsletter
---

energy-pedia news is a FREE news service written and edited by E&P professionals for E&P professionals. We don't just report the news, we give you the technical background as well, with additional information derived from our unique energy-pedia opportunities service. Click here to sign up.
---
energy-pedia opportunities

energy-pedia opportunities currently includes comprehensive details of over 1100 upstream opportunities along with historic details of over 2,000 completed deals. Included are licensing details, current, future and historic, along with details of 1000's of corporate and company deals. Also included are company profiles of over 1,500 upstream oil companies worldwide.
energy-pedia opportunities provides intuitive, interactive, real time online information updated on the hour, helping established oil companies to maintain and develop their upstream portfolios while enabling start-up companies plan and build successful worldwide businesses.
For further information click here: energy-pedia opportunities
news by region
energy-pedia world map movie
back to top