energy-pedia
news, information and opportunities
latest headlines
Under the agreement with operator RWE Dea Norge, AGR will deliver Well Delivery Services comprising planning, execution and reporting for the project. Two wells contracted will be delivered in 2014 using the Leiv Eiriksson semisubmersible rig. The Titan field is located in Block 36/9 in the Norwegian sector of the North Sea. ... more ...
Efforts to align the capital gains treatment of explorers with producers should enable exploration and appraisal assets to change hands more readily and could stimulate economic activity in the region, but tax changes could cost the oil and gas sector up to £100 million. ... more ...
A comparison of Wood Mackenzie's latest ranking of company exploration performance with the findings of similar analysis published back in 2005 reveals a striking absence of correlation: today's top explorers, by and large, are not the same as those of a decade earlier. ... more ...
Royal Dutch Shell said it would not move forward with its proposed 140,000 barrel per day Gulf Coast gas-to-liquids (GTL) project in Louisiana, despite ample supplies of natural gas in the area. ... more ...
Tanzania has assured Britain's Ophir Energy and a unit of Singapore's Temasek Holdings that their proposed $1.3 billion asset sale of natural gas fields in the east African nation will proceed smoothly and get timely approval. ... more ...
Vietnam: Eni logging Cua Lo 1 ST-1 exploration well ahead of testing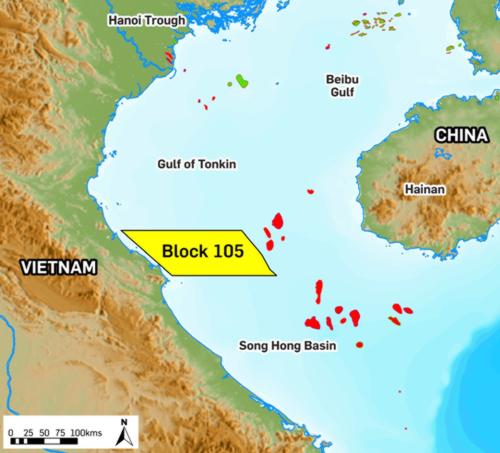 JV partner KrisEnergy has announced that the Cua Lo 1 ST-1 exploration well in Block 105-110/04 (Block 105) has reached a total depth of 2,867 metres measured depth (MD), or -2,800 metres total vertical depth subsea (TVDSS). The operator, Eni Vietnam, is currently running wireline logs prior to undertaking a drill stem test. The Company intends to make a further announcement once all data has been received and analysed.

The Cua Lo 1 ST-1 well is a sidetrack well to the original Cua Lo-1 exploration well, which commenced drilling on 11 August 2013 and was then subsequently plugged back from a depth of -2,531 TVDSS and sidetracked due to an unexpected high pressure kick. Drilling operations have been further delayed by a series of strong typhoons passing through the region, which have resulted in the evacuation of crew from the Ensco 107 jack-up rig on four occasions.

Block 105 covers an area of 7,192 sq km offshore northern Vietnam, overlying the central Song Hong Basin where water depths range from 20 metres to 80 metres. The water depth at the Cua Lo 1 ST-1 location is 76 metres.

KrisEnergy holds a 25% working interest in Block 105 and is partnered by Eni Vietnam with 50% working interest and Neon Energy (Song Hong) with 25%.
See Kris Energy Corporate Presentation December 2013 for further information regarding the Cua Lo 1 ST-1 well
Source: Kris Energy
Sign up for free daily newsletter
---

energy-pedia news is a FREE news service written and edited by E&P professionals for E&P professionals. We don't just report the news, we give you the technical background as well, with additional information derived from our unique energy-pedia opportunities service. Click here to sign up.
---
energy-pedia opportunities

energy-pedia opportunities currently includes comprehensive details of over 1100 upstream opportunities along with historic details of over 2,000 completed deals. Included are licensing details, current, future and historic, along with details of 1000's of corporate and company deals. Also included are company profiles of over 1,500 upstream oil companies worldwide.
energy-pedia opportunities provides intuitive, interactive, real time online information updated on the hour, helping established oil companies to maintain and develop their upstream portfolios while enabling start-up companies plan and build successful worldwide businesses.
For further information click here: energy-pedia opportunities
news by region
energy-pedia world map movie
back to top